Budgeting 101: Money Tips in the New Normal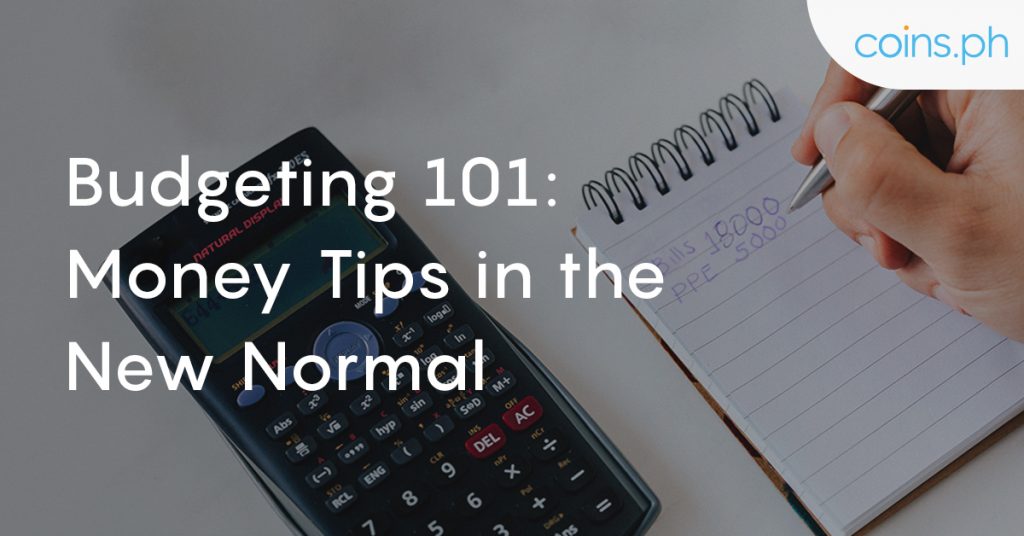 One of the biggest impacts of the pandemic on individuals is personal finances. The importance of money management has become more and more apparent.
Related: How to Manage Finances During a Pandemic
To help you in the process of getting your finances to healthier levels, here are 7 of our best tips on budgeting in the new normal:
1. Take a look at your financial new normal
The first step in budgeting in these strange times is truly taking a good look into your finances today. Whether you've experienced a cut in your income or have added a big-ticket monthly expense like a car or motorcycle to your budget, looking at your new financial reality will help you reprioritize and adjust your budget accordingly.
Related: How to Apply for SSS Unemployment Benefits
2. Factor in PPE and hygiene items in your new budget
In the midst of panic buying during the lockdown, you might have forgotten to factor in your daily PPE, stomp mat and solutions, and alcohol into your budget. Even if these seem insignificant in your overall budget, the need for regular refills can add up to significant costs.
Check your grocery lists and take inventory of your stock at home. This way you can find out how much of these items you use monthly and allot a specific amount for them in your budget.
3. Compare your new spending with your previous budget
While making a monthly spending comparison every month is a good practice, this may have fallen lower in your priorities amidst the pandemic and lockdowns. Whether it's for food, transportation, utilities, or entertainment, your spending habits have probably changed in the new normal.
Comparing your expenses from the last month and even from the pre-COVID-19 months will show you how much more or less you've spent per budget category and where your money priorities lie today.
Related: How to Create a Budget For the First Time
4. Find the unnecessary and slash it out
Once you've made your budget comparison, you'll start to see the unnecessary expenses. When you do, slash them off your spending if they are completely unnecessary or at least minimize them if they're little luxuries.
If you've gone completely digital for news and entertainment, cut your cable subscription. If you've been spending too much on ube cheese pandesal or sushi bake, limit your indulgences to once a week or fortnight. Whatever it is, if you find that you're spending more for an item or a budget category than necessary, cut those costs down.
Related: How to Cut Your Monthly Expenses
5. Research on the lowest prices
With the boom of online entrepreneurship comes a lot of sellers offering overpriced goods made attractive with good graphic design. While it can be tempting to buy from the glammed-up ad that shows up all over your social feed, shopping around for reasonably priced goods is the smart way to go — especially for essential items. Why would you want to pay double or triple for goods that you need to repurchase every month when you can find quality goods for a better price?
Related: What to Prepare Before Starting an Online Business
6. Don't forget discounts, rebates, and points
This isn't to say that you should go out of your way to buy things you don't need just because they're on sale. But if you haven't used up your coupons, points, and rebates, now is the time to start. Let's say you have Globe rewards just sitting in your account. With enough reward points, you can slash off PHP 500 from your next bill. For some groceries, you can use reward points to slash off your next trip. Wherever you can find a discount for goods and services that you will use anyway, take advantage.
Tip: Buy prepaid load using your Coins Wallet. Enjoy instant 10% rebate when you buy load for Globe, Smart, Sun, TNT, and TM prepaid numbers. Learn more
7. Never miss a payment
In these uncertain times, the last thing you want is to pay penalties for services you truly need. Avoid penalties and other excess fees by paying on time every time for utilities, bills, and debt repayments.
Tip: With your Coins Wallet app, you'll never forget to pay your bills on time. Just be sure to add your monthly bills to Favorites so you can set regular reminders whenever your due date is near. (Read: What Bills Can I Pay with Coins?)
8. Avoid "get rich quick" scams at all costs
Anything that a) uses your emotions instead of reasoning to reel you into a "business opportunity", b)asks you to give up your personal information, c)tries to convince you that money-making is as easy as a downpayment, or d)tells you that you will get rich in X amount of time — you should avoid at all costs.
Here are a few guides to help you spot investment scams:
Stay safe at home and use your Coins.ph Wallet to send money, buy load, pay bills, and more. 


Questions or feedback? Email us at help@coins.ph or tap Send us a message in your app. Our operating hours are from Monday – Friday, 9AM – 6PM
Coins.ph is regulated by Bangko Sentral ng Pilipinas (BSP). BSP Financial Consumer Protection Department: (02) 708-7087 or consumeraffairs@bsp.gov.ph