Community Spotlight: Balancing Career and Motherhood in Dubai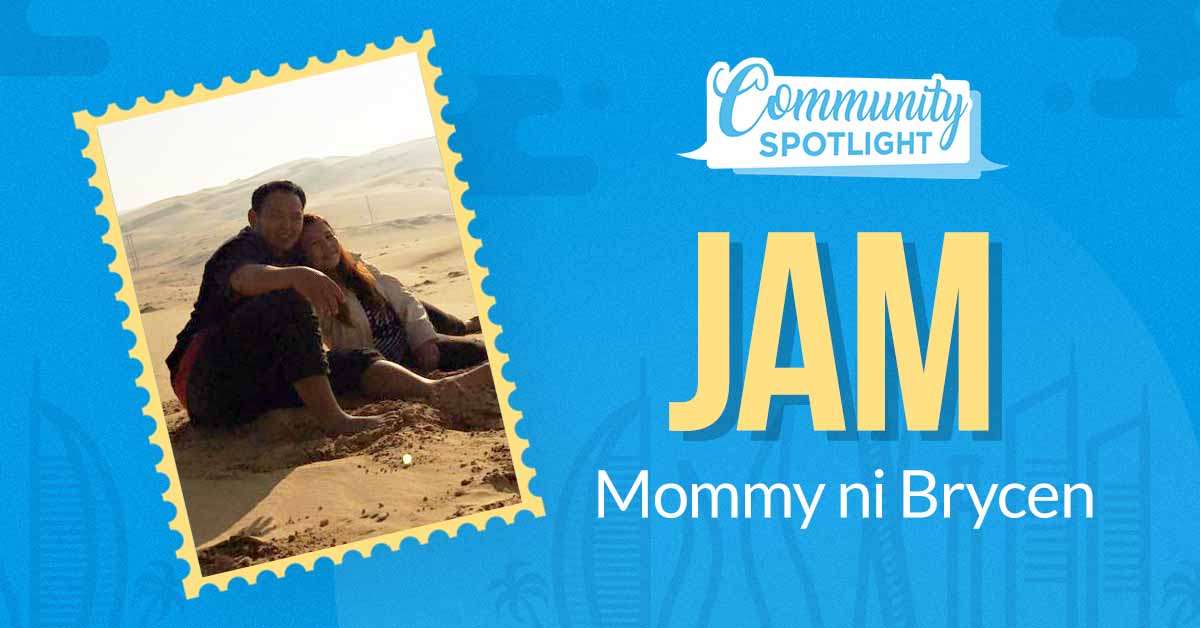 Jam has been working in Dubai for 9 years, scaling the ranks of the recruitment industry from the back office to an administrative role. In the last 2 years, she has taken on her most challenging but rewarding job yet – being a mom to her baby boy Brycen. She recently started a blog called Mommy ni Brycen to share her experiences and thoughts about this new role in life. Today, Jam shares with our Coins.ph community how she balances being a seasoned OFW and a new mom, and gives valuable tips on how to make it in Dubai.
Making Dubai a Home
Working in recruitment, Jam has a pretty good idea of what life is like for OFWs in Dubai. In her words, "Mahirap pero kinakaya."
Finding a job can be challenging, especially for the ones who go on a tourist visa hoping to find work. Her job is to help people find something that suits them so they can send something home to their families.
But even when you do find a job, homesickness is the hardest battle. For new and potential OFWs, Jam recommends seeking solace in the Filipino community.
"Filipino communities here pa rin naman ay nagtutulungan in terms of pakikisama and all. Nag tuturingan na as family, getting and giving comfort from friends kapag may problems sa mga employer, sa family back home, or personal issues."
Making a Home in Dubai
Jam knows the importance of family, and how it can keep you going through the toughest of times. That's why she and her husband decided not to send Brycen home to the province, as many Filipina moms do.
Jam considers herself lucky that she and her husband share the responsibility. Before work, her husband drops Brycen off at daycare, and after, she picks him up. At night they prepare dinner and tomorrow's food together. Even if their day starts before 6 am and ends at 10 pm because of having to work and take care of their son, sharing the responsibility brings them closer as a family.
"Hindi talaga siya madali. Pero masaya kami kasi kumpleto kaming pamilya and mas naging strong kaming mag-asawa sa life. Talagang mahirap pagsabay sabayin yung work, baby and then yung household chores. Imagine. But we are happy and contented at the end of the day."
So how does Jam keep her sanity while balancing the exciting new world of motherhood, with the daily life of being an expat? She blogs. Jam started blogging about 6 months ago as a way to voice out her thoughts on motherhood. She considers it her "me time," her stress reliever after putting the baby to bed.
Jam also loves making DIY toys for Brycen, drawing ideas from Pinterest and other similar sites. She proudly declares that she made him a guitar with a tissue box and rubber bands. Having her son with her, she gets to watch him grow and helps him explore his curiosity. At the moment, Brycen loves fish. So they go to the mall together to look at aquariums. Being able to share these moments with her son is truly a blessing for Jam.
Balancing Act
With her years of experience, Jam knows that spending quality time with family, or the people you consider family, is the key to having a good life abroad. Making time for people who feel like home to you is what keeps you going even if you're far from your real home and family.
"Malaking bagay na sa isang tao ang ganun may matatakbuhan sa oras ng pangangailangan. And then every Friday(day-off) nagkakasiyahan sa isang lugar, nagkakantahan, kakain sa labas pagkatapos mag simba so we are still trying to live a normal/ happy life away from home."
But time, as we all know, isn't always easy to come by. Many OFWs in Dubai, especially in the healthcare industry, work 12-hour shifts. That doesn't leave much time for food and rest, so their days off are also errand days.
For Jam, weekends mean family time. It's when she and her husband can dedicate their complete attention to their son. This means that she has to find ways to do her errands quicker and more efficiently. That's why she uses Coins.ph.
Jam loads her Coins.ph account through M Lhuiller and uses it to pay bills like SSS contributions or to send remittances from Dubai.
Many OFWs have to use expensive money transfer options if they don't have immediate access to banks. Some have to spend their day off going to the consulate to get their payments done. But Jam can get this all done now through her phone.
"As a busy mom super napaka halaga ung mga online payments or yung mga safe online transactions as in thankful ako napapadali ang mga ibang alalahanin ko gayang ng sending remittances and paying our SSS contributions, malayo at mahirap magbayad sa Phil consulate natin dito so buti na lang talaga."
Juggling a family and a career can be difficult, especially when you're miles away from home. But Jam shows us that it can be done. Take it from this OFW expert and wonder mom: making time for yourself and your family is what will keep you going, and it'll make your time abroad more meaningful.