6 Christmas Traditions in the Philippines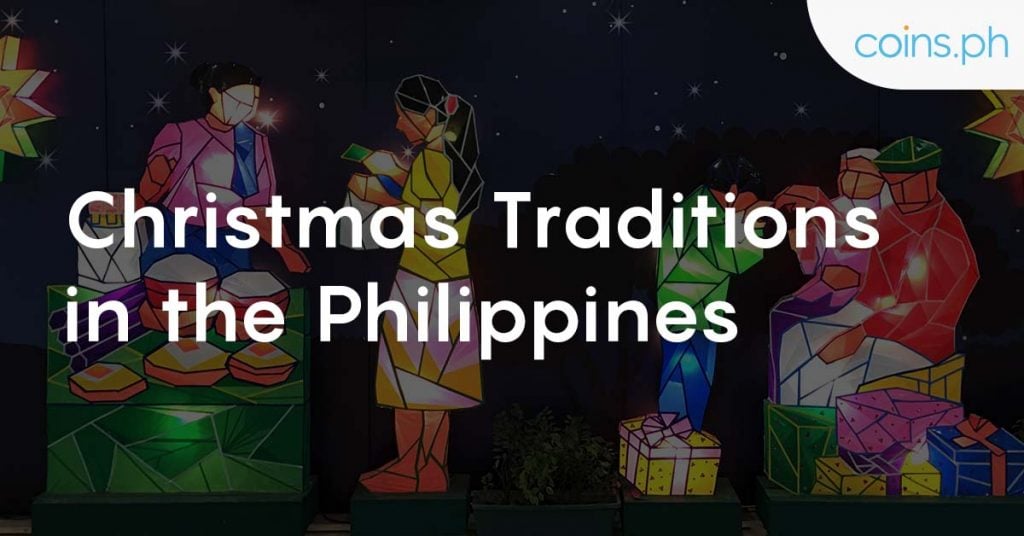 While the tropical Philippines doesn't have a white Christmas, nobody does the holidays quite like Filipinos. Since we have one of, if not, the longest Christmas seasons ever, the entire nation is filled with twinkling lights, giant Christmas parols and trees, and festivities left and right once the "ber" months start to hit.
Christmas is alive and well in the country and if you want to make the most of it, make sure to partake in these 6 Christmas traditions in the Philippines:
1. "Ber" months as the start of the Christmas season
You'd be hard-pressed to find a collective people more enthusiastic about Christmas than the Filipinos. This is evident with the ever famous Jose Mari Chan Christmas album playing in malls as soon as the first of September rolls in. This is due to September 1 being unofficial but nationally agreed upon the beginning of the Christmas season. 
2. Misa de Gallo
The Misa de Gallo or Simbang Gabi started in the early Spanish colonial times as a compromise for Filipino farmers who would work before daybreak. This nine-day series of masses starts from the 16th of December until Christmas Eve and is meant to honor the Blessed Virgin Mary. What makes completing this nine-day vigil a part of everyone's bucket list is, according to folklore, a chance of being granted a wish upon its completion.
3. Puto bumbong and bibingka
Outside the church during Simbang Gabi, puto bumbong and bibingka vendors are eagerly waiting to serve hungry church-goers with their rice delicacies. As it is traditionally sold only during the Advent season, Filipinos will queue up to have a taste of puto bumbong, a purple sticky delicacy smothered in margarine and sprinkled with coconut shavings and sugar and bibingka, a rice cake cooked in clay pots and topped with salted egg, margarine, and cheese.  
4. Christmas Midnight Mass and Pahalik
One of the most theatrical masses of the liturgical year in the Philippines is the Christmas Midnight Mass. While not as common today, there are still several provinces that do practice the lighting or appearance of the guiding star on top of the belen to reveal the newborn Christ Child. At the end of the mass, the entire congregation lines up to kiss at the feet of the Niño as a gesture of reverence and welcome.
5. Noche Buena
In most countries, Christmas morning is the time for family and celebration. In the Philippines, it's the right after the Christmas Midnight Mass that is celebrated with immediate and extended family. Called Noche Buena, this celebration usually doubles up as a reunion with everyone decked in their finest clothes and party favorites like lechon, queso de bola, ham, and family heirloom recipes are prepared. This is also the time when children and adults alike are allowed to open their presents. No waiting until morning for Pinoy kids!
6. Aguinaldo
Since family, immediate and extended alike, come together on Christmas Eve or Christmas day, this means gifts from multiple titos, titas, ninongs, and ninangs for the children. It starts with the traditional "mano" as a sign of respect to elders. Some of the cheekier adults may request the children to perform with an instrument, song, dance, or poetry, and then the children are rewarded with their Aguinaldo or gifts in the form of toys or money. 
Surprise your inaanak this Christmas with a digital ang pao or Aguinaldo with your Coins.ph Wallet! From your Wallet, you can either select from hundreds of our partner merchants to send a gift card to your loved ones or send money straight to your inaanak's Wallet or bank account. For easy Aguinaldo, download the app today!


Questions or feedback? Email us at help@coins.ph or tap Send us a message in your app. Our operating hours are from Monday – Friday, 9AM – 6PM
Coins.ph is regulated by Bangko Sentral ng Pilipinas (BSP). BSP Financial Consumer Protection Department: (02) 708-7087 or consumeraffairs@bsp.gov.ph