What Coins.ph services are available during the Bitcoin Fork?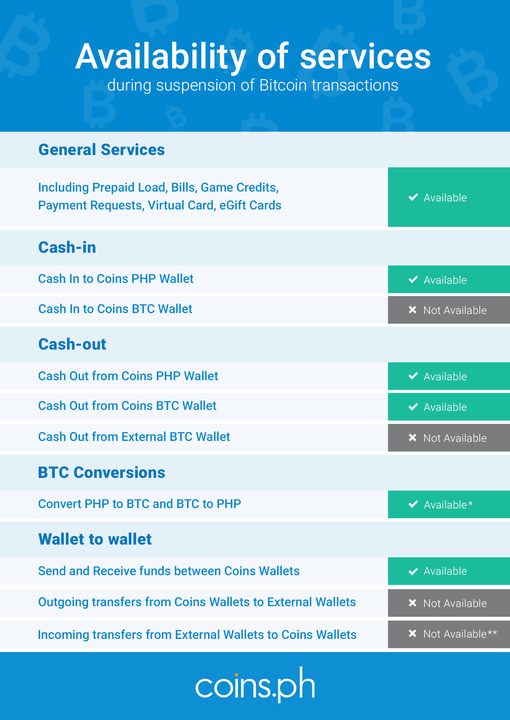 RELATED: Upcoming Bitcoin fork and your Coins.ph account
The following Coins.ph services are available:
General services such as Prepaid Load, Bills, Game Credits, Payment Requests, Virtual Card, eGift Cards
Cash-in to Coins PHP Wallet
Cash-out from Coins PHP and BTC Wallet
Convert PHP to BTC and BTC to PHP*
Send and Receive funds between Coins Wallets
The following services are NOT AVAILABLE:
Cash-in to Coins BTC Wallet
Cash-out from External BTC Wallet
Outgoing transfers from Coins Wallets to External BTC Wallets
Incoming transfers from External Wallets to Coins Wallets**
*Depending on the amount of liquidity available during the upgrade, we may need to temporarily increase our spreads.
**You will receive incoming transfers from an External BTC Wallet after the suspension has been lifted (given that the transaction is successfully confirmed on the Blockchain)
When will Bitcoin transactions resume?
While we aim to complete such an update in the shortest time possible, we will only resume transactions once we are confident that such an update has been adequately reviewed and tested. We will notify all of our customers via email and social media when we have resumed bitcoin transactions.
RELATED: Possible disruption to the Bitcoin network, How Coins.ph will handle a Bitcoin fork