Community Spotlight: OFW Jayna Balaguer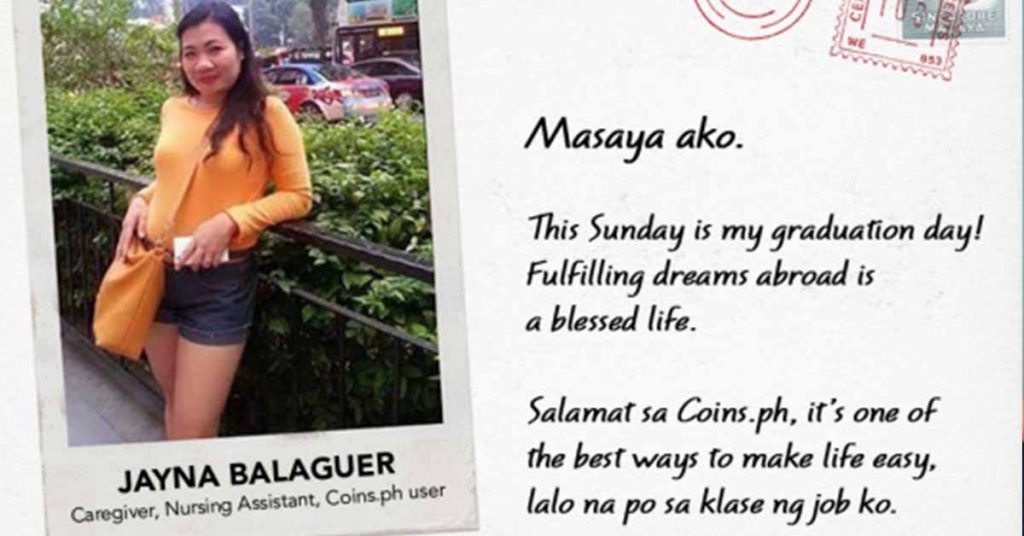 We love getting to know the members of our community and hearing their stories. Today, we'd like you to meet Jayna Balaguer, the diligent and generous caregiver from Singapore, who shows us how hard work pays off, especially on days off.
Hard at work
She first started working in Singapore in 2013 as a private caregiver. Her previous employer didn't let her manage her money herself, and would send her salary to her family in the Philippines. Her family then had to take care of paying for bills, SSS, and all the other fees OFWs have to handle. What was left would go to her savings account, but lining up at the bank on her day off was a difficult and time-consuming ordeal.
When she first learned about Coins.ph last year, she called her family back home to try it out with her. She first sent load to a relative in the Philippines, and later on sent money through M Lhuiller Kwarta Padala. Her experiment paid off. She's been remitting money this way ever since, and has recruited many of her friends too.
"I can sit down and relax while I'm working… compared to those long cues at the Lucky Plaza, one of the famous malls here in Singapore where all Filipinos sending money to their families have to go through the trouble of falling in line just to send remittances."
Kindness pays off
Now, she works as a caregiver for a much kinder employer who lets her study at a nursing school. She spends her days off going to school, and volunteering at an elderly home as part of her on-the-job training. After that, she returns home and does some transactions with the help of Coins.ph.
Aside from being a private caregiver and graduating nursing assistant, she also assists her friends by helping them remit money with Coins.ph.
"Malaking tulong talaga po. Kahapon at kanina, two of my friends sent money to the Philippines using my own account in Coins.ph. Nakatulong na din ako sa kanila, because their employer doesn't allow them to go out to send money.
As we closed the interview, Jayna asked some questions about keeping her account secure. You can tell she's as careful as she is caring, and very much willing to learn. We know she'll go far and fulfill her dreams. Join us in wishing her the best at her graduation.
Congratulations, Jayna!
---
We first encountered Jayna when we read her comment about using Coins.ph in Singapore. If you have an interesting story to tell, please do share it with us! You could be on our next Coins.ph Community Spotlight.
---
Save on remittance fees and skip the lines, just like Jayna! Get started with Coins.ph today.