Community Spotlight: Life On Board as a Seafarer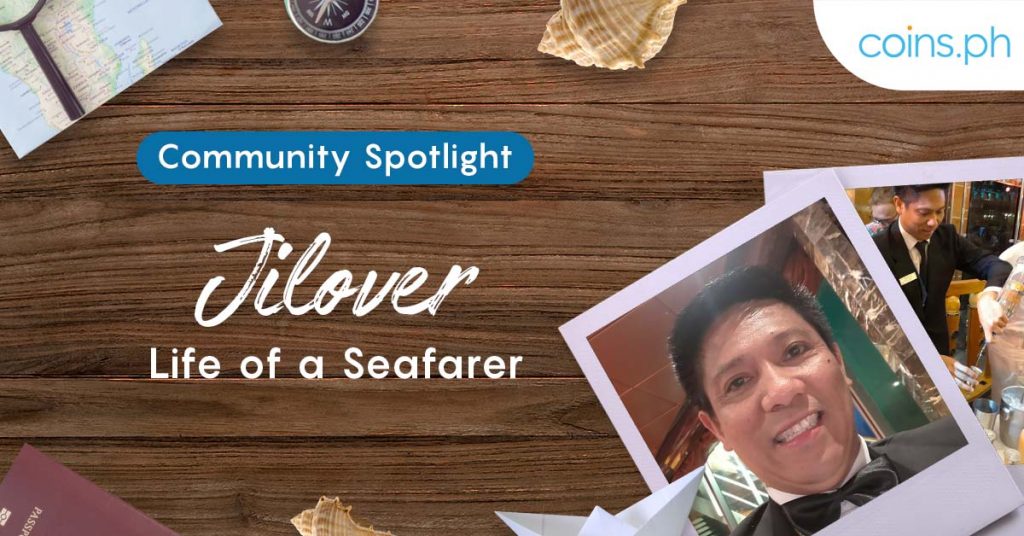 The life of a seafarer isn't for everyone. It requires a strong spirit to last weeks at sea, isolated from life on land. For Jilover, this spirit has lasted him 16 years.
Jilover spends about 6-7 months at a time on board and 2-3 months on land in the Philippines. He's the breadwinner for his wife and four teenage kids. Because he's been a seafarer for almost two decades, he's already used to being away from home. But the language barrier is still a big challenge:
"Language barrier ang malaking problem dahil mostly European and Chinese passengers, lalo na ngayon Asian route ako. Pa-iba iba rin ang tips ng customers pero kasama yun sa trabaho, minsan mababa, minsan mataas, depende"
He plans on retiring from the seafaring industry in four years time to settle down with his family. He already has a few gigs on the side. "Maramig ng ibang sources para kumita like ako, I'm into e-commerce, I'm doing online business kasi, I'm doing buy & sell"
Becoming a seafarer was an "accidental plan" for Jilover, who worked as a computer technician before joining the hospitality industry as a hotel waiter. To earn higher wages, he decided to join a passenger cruise ship as a bar boy. Through the years and with a little diskarte, he climbed the ranks and now he's Head Bartender. "Syempre nagstart ako sa mababa then napopromote and napopromote"
It's the same diskarte that prompted Jilover to download Coins.ph when he saw the mobile wallet ad on Facebook two years ago. He uses his Coins.ph app to buy load, pay bills, and send remittances wherever he may be. 
"Convenient, very convenient. Excellent platform nga yung Coins.ph. Hindi na kailangan lumabas at pumunta ng mga remittance centers. I use Coins.ph to pay bills, ako na nagbabayad ng bills ng mga kapitbahay kasi syempre, may rebate ako eh."
With just a few taps, he can send money from his phone and his family can claim the money at a remittance center in the Philippines.
"Naglalagay na talaga ako ng pera pag may emergency, just in case kailanganin. Nagfufund ako dun for emergency purposes kasi minsan kailangan ko rin ng load.. Hindi na ako pupunta ng store kasi through my phone I can load"
Now, Jilover enjoys an easier way to cash in to his Coins.ph wallet through Western Union: 
"Ang bilis parang wow wala pang 10 minutes nasa Coins.ph app na agad. Yung salary ko kasi direcho sa Western Union then nilipat ko agad sa Coins.ph. Very convenient talaga, excellent service. Ang dami ko nga nirefer sa barko!"
SEND REMITTANCES FROM 200+ COUNTRIES AND TERRITORIES
Easily pay bills, buy load, send money, and more anytime, anywhere, even while out at sea! Kahit nasaan ka, lagi mong kasama ang Coins.ph