Cost of COVID-19: How Much Do I Pay If I Get Coronavirus in the Philippines?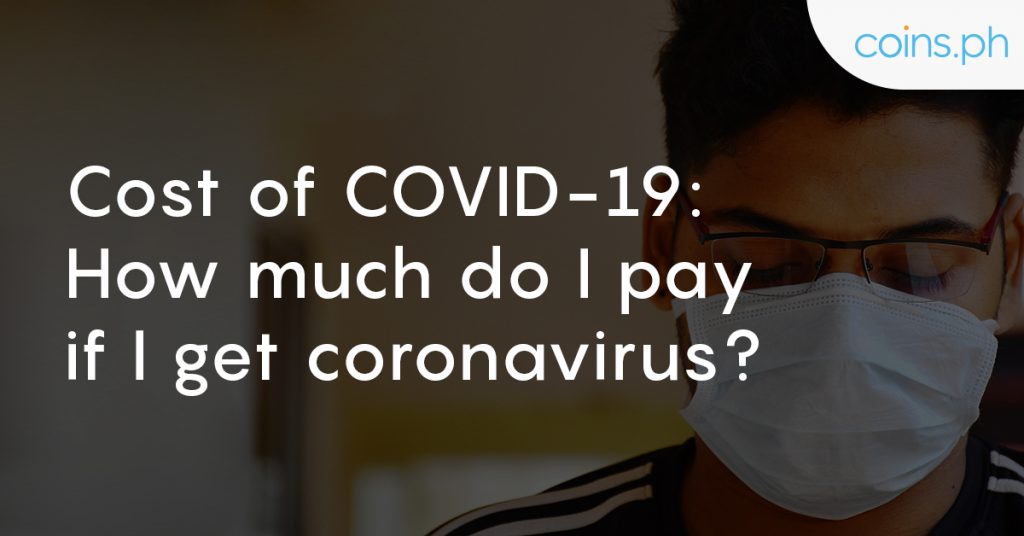 After May 15, there is a possibility of the enhanced community quarantine (ECQ) transitioning to the more relaxed general community quarantine (GCQ). This raises fears of a potential second wave of COVID-19 infections in the country.
COVID-19 treatment costs and hospital bills in the Philippines comes with a big price tag. So now, the question stands: If you are infected with COVID-19, how much would you have to pay?
Hospital Bill Reports
If news reports are any indication, the cost of treating COVID-19 can range from ₱43,000 up to over ₱1 million. This depends on the hospital, severity of the symptoms, and the number of confinement days. Although, according to PhilHealth CEO Ricardo Morales in an April 4 interview, the highest agency coverage for a patient's COVID-19 treatment was worth ₱2.8 million.
COVID-19 Treatment Cost Breakdown
In an interview with Pep.ph, a recovered COVID-19 patient disclosed being charged ₱1.1 million. This covers his 18-day confinement and treatment in a private Metro Manila hospital. The cost breakdown consists of the following major expenses:
4 days ICU confinement + 5 days regular isolation room and board = ₱55,700
Use of ventilator = ₱123,665
Medication, machine, and miscellaneous use in the Emergency Room = ₱176,945
Laboratory tests = ₱178,820
Pharmaceutical products (syringes, drugs, etc) = ₱305,636.06
New PhilHealth Coverage
Starting April 15, PhilHealth is to roll out a new benefits package to cover patients with COVID-19, depending on the severity of infection:
Patients with mild pneumonia = ₱43,997
Patients with moderate pneumonia = ₱143,267
Patients with severe pneumonia = ₱333,519
Patients with critical pneumonia = ₱786,984
As per Morales, PhilHealth will not be able to offer "unlimited" COVID-19 coverage and still serve the millions of members with various ailments. He does, however, state that you will not go bankrupt should you contract the disease with the new coverage scheme in his statement: 
"Ang masasabi lang ho ng PhilHealth, hindi ho kayo mamumulubi kung kayo ay magkakaroon ng sakit na COVID-19 kahit na after April 14."
Morales also assures that PhilHealth is looking into alternative fund sources in case the pandemic continues.
What happens if you exceed the PhilHealth coverage?
In Ivan Mayrina's report on "24 Oras", Morales states that additional coverage or other settlements will be handled depending on a patient's ability to pay. In the report, he states that if the patient does not have the financial capacity to pay for the hospital bill:
"The patient still does not have to pay anything but he has to request for additional funding,"
For patients who do have the capacity to pay for the bill, even in increments, Morales adds
"If they have the capacity to pay then we will work on something. Mayroon naman kasing mga pasyente na kaya nilang magbayad so it has to be a case-to-case basis,"
Coverage for patients prior to the new benefit package
According to several announcements made on the official Philippine Health Insurance Corporation page, PhilHealth will pay the confinement fees at full cost for COVID-19 patients admitted from February 1 up to April 14, 2020.
For more information, visit their official Facebook page at  https://www.facebook.com/PhilHealthofficial/ or contact them through their official channels at  www.philhealth.gov.ph, actioncenter@philhealth.gov.ph, and (02) 8 441-7442.
Stay safe at home and use your Coins.ph Wallet to send money, buy load, pay bills, and more. Check out all available services during the enhanced community quarantine on this page. 


Questions or feedback? Email us at help@coins.ph or tap Send us a message in your app. Our operating hours are from Monday – Friday, 9AM – 6PM
Coins.ph is regulated by Bangko Sentral ng Pilipinas (BSP). BSP Financial Consumer Protection Department: (02) 708-7087 or consumeraffairs@bsp.gov.ph