Crypto Catch-up Vol 3: El Salvador adopts Bitcoin as legal tender, Google lifts ban on Crypto ads, and more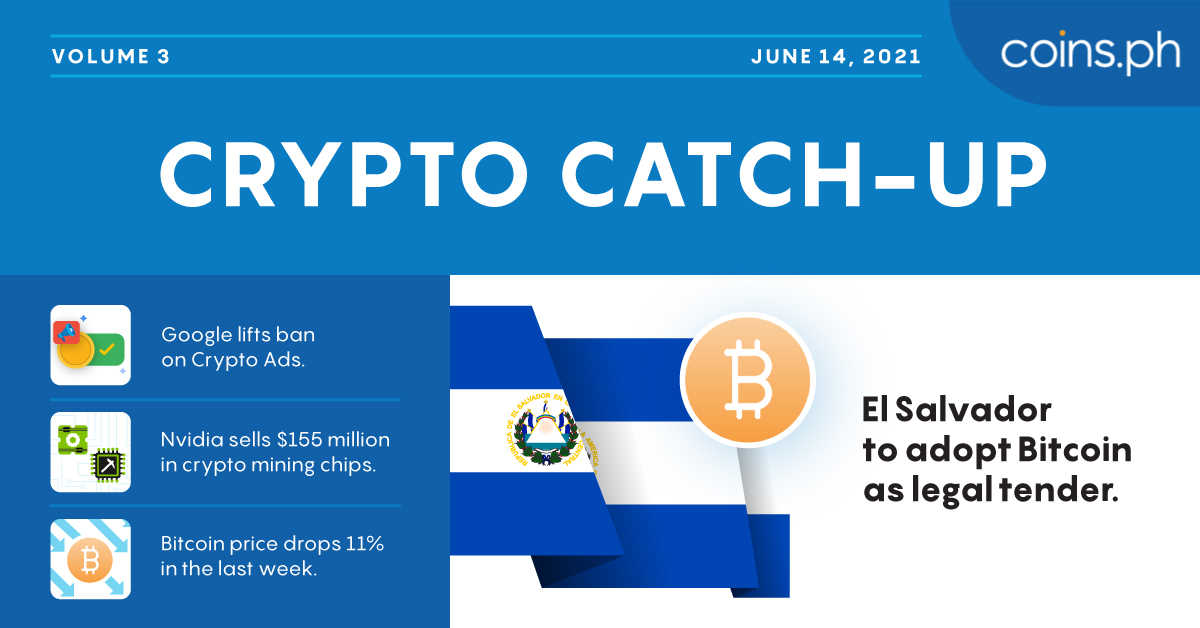 Welcome to your Crypto Catch-up, a roundup of the latest news in the cryptocurrency space.
El Salvador to adopt Bitcoin as legal tender
During the 2021 Bitcoin Miami Conference, President Nayib Bukele announced his plans to make El Salvador the first country in the world to adopt Bitcoin as legal tender. On June 8, 2021, these plans were approved with 62 out of 84 votes in Congress, with the law going into effect 90 days after this date. This will allow Salvadorans to pay their taxes in Bitcoin and also require most businesses to accept the cryptocurrency.
Source: The Guardian
Google lifts ban on Crypto Ads
Beginning in August, Google will allow companies to run ads about cryptocurrency wallets, which comes after the initial ban of these products in 2018. Despite these changes, ads for initial coin offerings will still continue to be restricted on the company's platforms.
Source: Bloomberg
Nvidia sells $155 million in crypto mining chips
Nvidia, a technology company known mainly for manufacturing graphics processing units (GPU), has booked $155 million in revenue in Q1 2021 from the sale of cards designed for crypto mining. Nvidia hopes that creating cards specifically for crypto mining will help save the supply of GPU's for their main customer base of PC gamers.
 Source: CNBC
Bitcoin price drops 11% in the last week.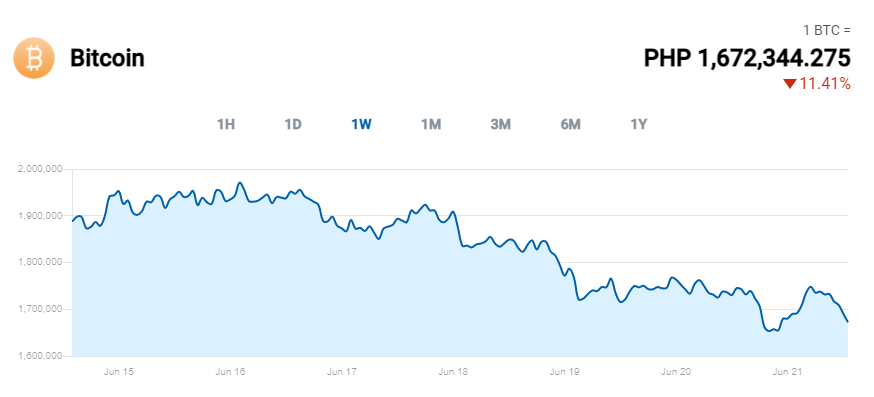 Chart is as of June 21, 2021, 3:00PM
As of June 21st, 2021, 1:00PM the price of Bitcoin is at ₱1,672,3444, which is a 11% drop in the last day. At this time, Bitcoin's market capitalization is currently over $600 billion.
Buy and Sell Cryptocurrency with Coins.ph
Did you know? Coins.ph is the first company in the Philippines to have a Virtual Currency Exchange license from the BSP.
With Coins.ph, you can buy, sell, and store Bitcoin, Ether, and Bitcoin Cash all in one platform.
Disclaimer: Buying Bitcoin and other cryptocurrencies carries a high level of risk, and may not be suitable for everyone. Cryptocurrency prices are highly volatile and can go up and down in real-time. Make sure to only buy as much as you can afford to lose.


Questions or feedback? Send us a message via https://support.coins.ph/hc/en-us/requests/new. Our operating hours are from Monday – Friday, 9AM – 6PM
Coins.ph is regulated by Bangko Sentral ng Pilipinas (BSP). BSP Financial Consumer Protection Department: (02) 708-7087 or consumeraffairs@bsp.gov.ph