5 Holiday Financial Tips for Single Parents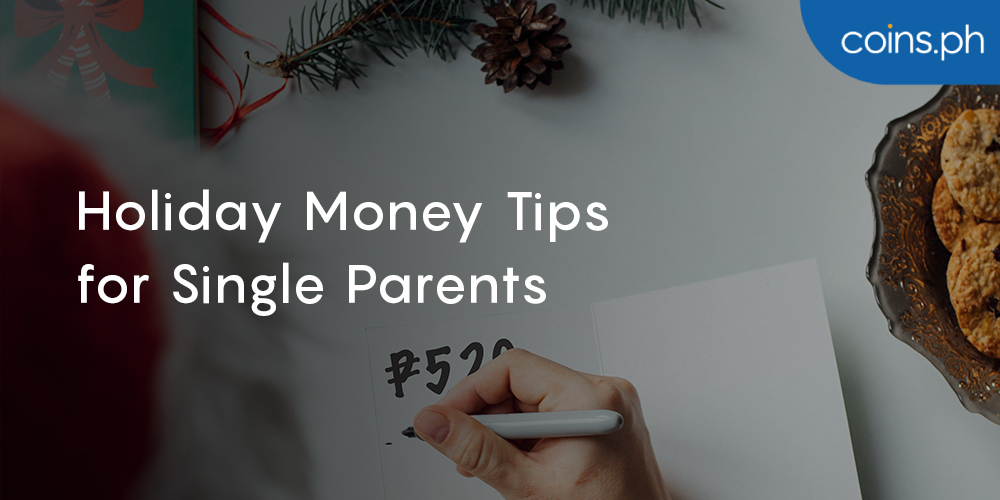 While every single parent needs to be the accountant for their household, not everyone is born with a knack for numbers and budgeting. At this time of the year, expenses seem to pile up and more things need to be added to your financial to-do list. To help you on the financial side of things, here are some single-parent money tips for Christmas 2021.
1. Use your 13th month and bonuses wisely
It can be tempting to use up your bonuses for the fun stuff. While it's good for you to treat yourself and your children this season, this splurging does require some prudence. Before you splurge, be sure to allot for debt and credit card payment, tuition fees, and other household or utility bills.
With your Coins Wallet, you can do it all — pay bills, credit card, tuition, buy load, get gift vouchers, buy game credits, and more!
2. Create a budget plan
As a single parent, you're probably no stranger to budgeting. But in case you haven't made your budget for the holidays yet, now is the time to do so. Unlike the previous months, there will definitely be a lot more extra expenses you need to take into account: Christmas gifts, noche buena food, monito-monita budget, Christmas activities of the children, etc.
3. Make your shopping list, check it twice, and stick to it
Whether you're shopping online or in a physical store, have a list with you and stick to it! The glitz, glam, and mega sales of the holidays make it easy to impulse buy, so a list helps keep your impulses grounded and your budget intact.
Want to save up on your gift and noche buena shopping? Check out Coins Rewards!  Earn points to instantly redeem gift vouchers! Read more: How to redeem rewards
4. Explore inexpensive family fun
As many malls are now open for all ages, heading to your nearest shopping center is the easiest way to have family fun. However, between the arcade, lunch and snacks, and the bright and shiny toy store, a mall trip with the family can put a serious dent in your budget. 
Minimize the spending while maximizing the fun this season by testing the limits of your creativity! Try a trip to an eco park or wildlife center, go on a parent-child baking class, rent a bike for the afternoon, or have a picnic in one of the metro's more scenic spots. With a little research, the possibilities are endless when it comes to inexpensive quality time.
Planning an out of town trip?  Make your drive more convenient by loading your Easytrip and Autosweep RFID ahead of time using your Coins Wallet.  You also earn loyalty points for every transaction.
5. Make savings fun for kids
Being a single parent requires multiple roles and much time from an individual. Splurging on your kids' wants can seem like an intrinsic part of making them feel loved. However difficult, holding back from time to time is also good for teaching them the value of money. In the same line of thought, teaching them how to save (in an age-appropriate way) is an essential life skill that they can build on and carry with them until they're grown. 
The internet is a treasure trove of fun ways to teach your children about saving. But if the bevy of information gets overwhelming, a piggy bank that they have to feed every day/week/month is always a good place to start for the younger ones. When they outgrow the piggy bank and they are ready for more serious money management, you can open a Coins account in their name.  Opening an account is quick and convenient.  And no credit card is required!
Check out the Coins.ph blog for more financial tips!

Questions or feedback? Send us a message at https://support.coins.ph/hc/en-us/requests/new. Our operating hours are from Monday – Friday, 9AM – 6PM
Coins.ph is regulated by Bangko Sentral ng Pilipinas (BSP). BSP Financial Consumer Protection Department: (02) 708-7087 or consumeraffairs@bsp.gov.ph