How to Compute for 13th Month Pay in the Philippines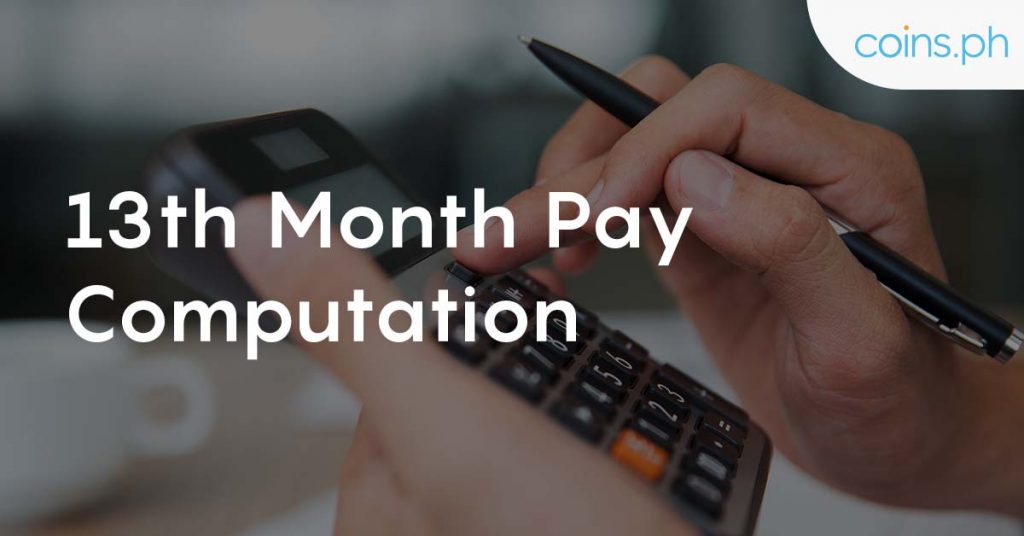 The Christmas season in the Philippines has been in full swing since the 1st of September and this means that millions of Filipinos are eagerly awaiting their 13th month pay. 
Related: Save P7,000 Before Christmas
If this is your first time receiving it, or you just need a refresher on how to compute for your 13th month pay, we've got you covered with this comprehensive guide.
What is a 13th month pay?
The 13th month pay is a government-mandated monetary benefit given to all rank-and-file employees, the equivalent of a full month's salary if they have served in a company for one entire calendar year.
If you have not served for a full year, the Department of Labor says that you can still receive your 13th month pay, provided you have worked for your employer for at least one month in the year. The exact amount will vary depending on factors like your length of service and base salary.
Related: How to Save Money from Salary
Take note that your 13th month pay is NOT a Christmas bonus. While the 13th month pay is a mandated benefit, the "Christmas bonus" is dependent on your employer's initiative. Christmas bonuses also don't necessarily come in cash. For example, your employer may choose to give a Christmas bonus in the form of a goodie basket, gift certificate, appliance or other token. 
Is my 13th month pay taxable?
According to RA 10653, the 13th month benefit given to employees should not be subject to tax, with the exception of employees who receive gross benefits exceeding P82,000.
When will I receive my 13th month pay?
While there is no definitive date as to when you will receive your 13th month pay, the law states that all rank-and-file employees must receive this benefit on or before the 24th of December.
What if my employer fails to provide my 13th month pay?
As the 13th month pay is a mandated benefit pursuant to Presidential Decree 851, any employer who fails to pay it may be subjected to administrative cases. If you feel like your employer is purposely withholding your 13th month benefit, you can file for charges in your nearest DOLE office.
Related: Guide to Payslip Deductions
How to compute for 13th month pay?
Before you start with the math, the first thing you need to know is exactly what is included and excluded in the computation of your 13th month pay:
13th month computation inclusions
All paid leaves including sick leave, vacation leave, and maternity leave

Basic salary
13th month computation exemptions
Unpaid leaves and absences

Unused leave credits (both vacation and sick leaves)

Overtime pay

Night differential

Holiday pay

Allowances

Commissions

Incentives
 13th Month Pay Computation = Annual Basic Salary (minus unpaid absences) / 12 months
 Example: 
| | |
| --- | --- |
| Basic monthly salary | P15,000 |
| Daily rate | P681.82 |
| Date started | February 4, 2019 |
| Length of employment for the calendar year (by December 31) | 11 months |
| Total Annual Income (minus unpaid absences) | P163,636.36 |
| Unpaid leave | 2 days |
| 13th month pay | P13,636.36 |
Make sure to spend your 13th month pay wisely! Times are tough and for those who are savvy with finance, the 13th month pay will probably go more towards investments, insurance, and debt payment/reduction rather than ultra splurging. 
Read: Beginner's Guide to Life Insurance
Manage your 13th Month Pay with Coins.ph
Whether you need to keep up to date with your bill payments, add to your insurance payments, send money to your loved ones, or receive money from family; your Coins.ph app is an all-in-one mobile Wallet that helps you do all that and so much more. (Read: What is Coins.ph?)Download the app for free!


Questions or feedback? Email us at help@coins.ph or tap Send us a message in your app. Our operating hours are from Monday – Friday, 9AM – 6PM
Coins.ph is regulated by Bangko Sentral ng Pilipinas (BSP). BSP Financial Consumer Protection Department: (02) 708-7087 or consumeraffairs@bsp.gov.ph