How to Compute Your SSS Contribution
Whether you're an employee or an entrepreneur, paying your SSS contributions brings benefits you're probably not aware of.
Aside from your retirement pension, your SSS membership gives you access to disability benefits and maternity benefits, among others. You may even get a salary loan and start a P.E.S.O. Fund with SSS.
And though it shows up on your paycheck as a deduction, your monthly SSS contribution doesn't make a huge dent on your monthly income, especially if you're an employee or you're earning more than P16,000 a month.
Read on to learn how to compute your SSS contribution, according to your SSS membership.
For Employed SSS Members
Generally speaking, your SSS contribution is 11% of your monthly salary credit. But take note that of the 11% monthly contribution, only 3.63% is deducted from your monthly salary. Your employer shoulders the remaining 7.37%.
Refer to this table to see how your SSS contributions are calculated.
SSS Contribution Table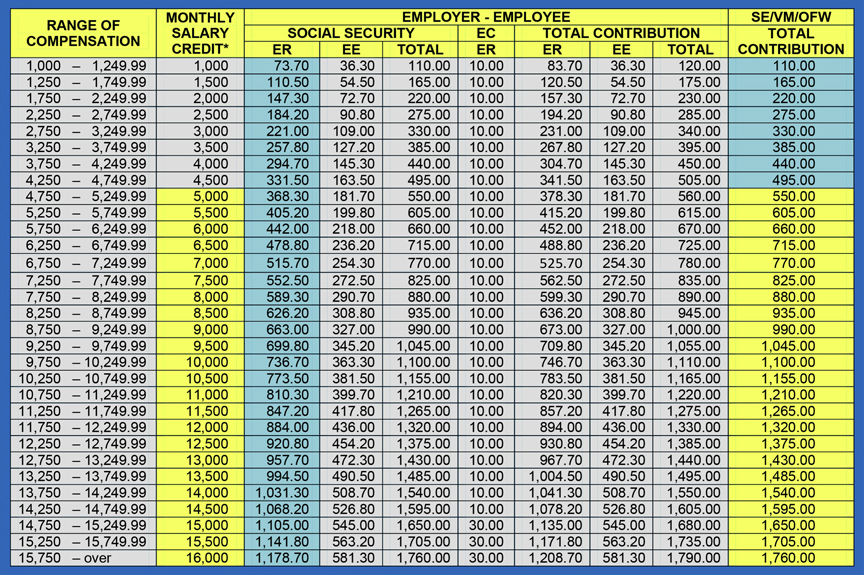 For example, you are earning P10,300 a month. Based on the table, your monthly salary credit is pegged as P10,500. Your employer pays 773.50 or 7.37% to SSS, plus the additional P10 employee compensation fee for a total of P783.50. You pay the remaining 3.63% or P381.50.
Hence, your total SSS contribution is P1,155 every month.
For Self-Employed and Voluntary SSS Members
If you don't have an employer, you may still become an SSS member, but this time you have to pay your monthly contributions by yourself. That means you have to pay the whole 11% of your monthly salary credit based on your declared monthly earnings at the time of your SSS registration.
So, based on the table, if your declared monthly earnings is P8,000, you have to pay P880 to SSS. If you're earning more than P16,000 or more a month, your contribution is set at P1,760.
As for your payment deadline, refer to the 10th digit of your SSS number and check the schedule above. You also have the option to pay on a quarterly basis.
For OFW Members
OFWs also follow the same formula as self-employed members, but their minimum monthly salary is pegged at P5,000.
Payment deadlines are more lenient, as OFWs can pay a year's worth of dues within the same year. Contributions for October to December can also be paid until January 31 of the following year.
To make sure that you don't skip on your monthly SSS dues, use your Coins.ph app to pay for your SSS contributions without the hassle of going to your nearest SSS office. Simply go to Bills Payment, select SSS as your biller, and input your SSS details.
SSS Payment Schedule
Your SSS payment deadline depends on the 10th digit of your employee ID number. The schedule is as follows:

If you are an employee, you don't need to worry about this, because employers are obligated to make the necessary SSS payments and deductions on your behalf.