7 Tips to Cope in the New Normal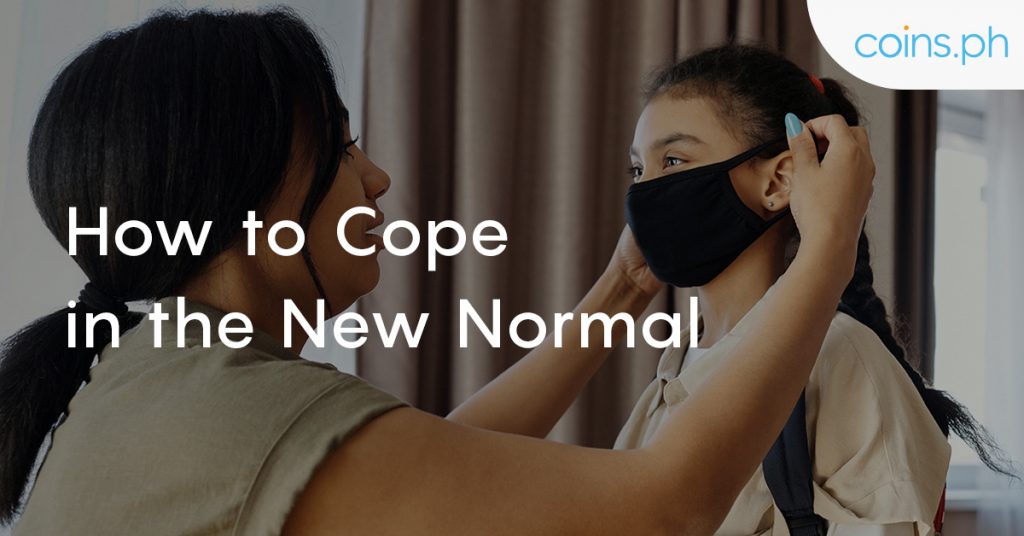 Even if quarantine rules are more relaxed, keep in mind that COVID-19 is still around. As we continue with the work to heal as one, here are a few tips to help you learn how to cope with the new normal.
1. Protect yourself (and others) at all times
With rising positive cases every day, it's advisable to stay home and only leave your home when absolutely necessary. If you must go out in public, protect yourself and others by:
always wearing a mask and PPE,
washing or spraying disinfectant to your hands before and after touching anything,
following public sanitation protocols i.e. stomp mats and temperature checks, and always adhering to social distancing protocols.
Related: How Much Do I Pay If I Get COVID-19 in the Philippines?
2. Keep your body healthy
More than ever now is the time to eat clean, take your vitamins, drink plenty of water, and do simple but regular home exercises. You can even support your local fitness industry by enrolling in a meal plan and delivery service or an online workout or dance class if your budget permits. If not, there are many free recipes and follow-along workouts on YouTube.
Related: 7 Work-From-Home Productivity Tips
3. Take social media breaks
As much as you need to take care of your body, you also need to keep your mental health in check. One of the best ways to do so is by taking social media breaks. According to science, taking a break from your social media and devices will:
Related: What Should I Do After the ECQ?
4. Help others cope by reaching out
The elderly, the immunocompromised, singles living on their own — these are but a few of the most vulnerable to increased feelings of loneliness and touch starvation during the quarantine.
Be sure to reach out to your loved ones through Skype, Facetime, Messenger, and Zoom to check-in and help them cope. You never know when a quick call can turn into someone's lifeline.
5. Stay on top of your finances
If there is one thing that this pandemic has taught us, it's that our financial situation can go from comfortable to dire when we least expect. Find side hustles or reprioritize your monthly budget to help cope with these changes.
Related: Tips to Manage Finances during a Pandemic
6. Take as much of your shopping online
To be on the safe side, do as much of your shopping online. This lessens the risk of you contracting illnesses or potentially passing them on to less healthy people. Remember that in addition to fashion and skincre, you can also shop for essentials and groceries online.
Check out our list of  5 Online Grocery Delivery Services to Try
7. Do all of your financial transactions online
Just like your shopping, you should do as many, if not all, of your financial errands online. If you want to pay bills, buy load, transfer funds, or do other financial transactions, you can do them from the comfort and safety of your home with your Coins Wallet. As a bonus, you get to skip the long lines and wait times. Skip the long lines, stay safe, and stay home!


Questions or feedback? Email us at help@coins.ph or tap Send us a message in your app. Our operating hours are from Monday – Friday, 9AM – 6PM
Coins.ph is regulated by Bangko Sentral ng Pilipinas (BSP). BSP Financial Consumer Protection Department: (02) 708-7087 or consumeraffairs@bsp.gov.ph