4 Money Matters to Take Care Of Before a Long Weekend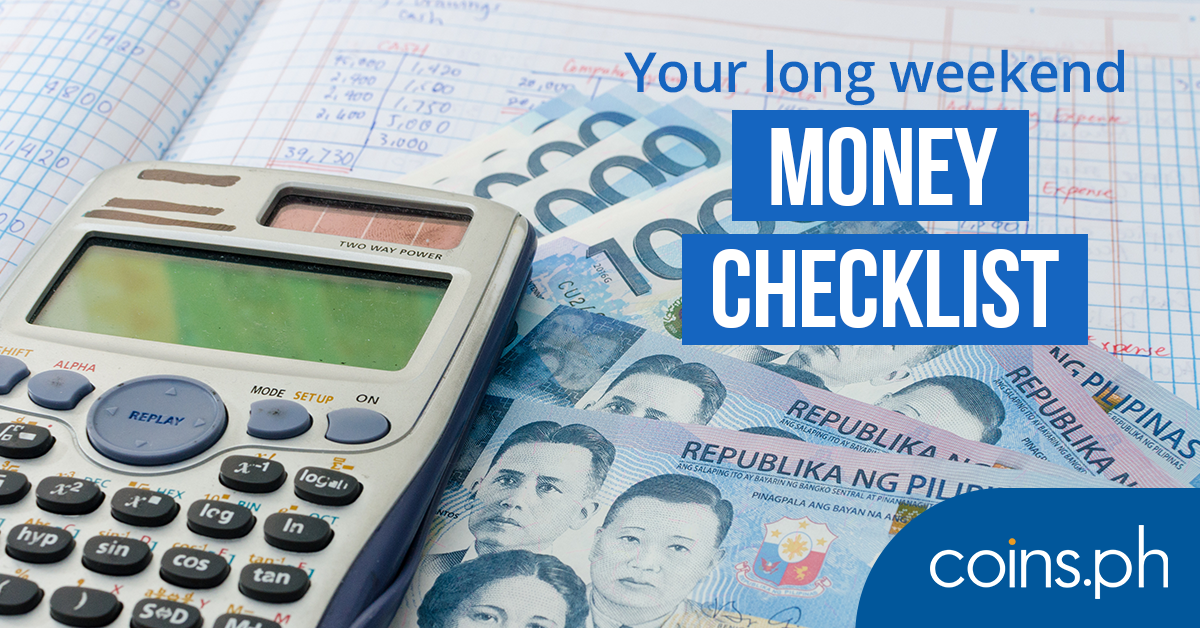 A long weekend means time to relax and unwind. But before you do, sort out these money matters first so you have nothing to worry about throughout your break.
Pay your bills
At the risk of banks and other institutions being closed for the holidays, you're going to want to pay your bills early. Remember that most payment centers have a three-day clearing time and that some utility providers charge penalties even if you're just a day late.
The trouble with this is that a lot of other people would probably have the same idea about paying early and you may have to suffer a long queue.
On the plus side, you can avoid these lines by paying your bills online directly from your Coins.ph wallet. The fact that you get rebates for each unique bill is just icing on the cake.
Unplug all your appliances
While this may not seem like a money matter at first, but remember that household appliances and chargers bleed out some energy. Even if it is just for a few days, make sure that your TV, fans, air conditioning units, chargers, microwaves, and other electronics are unplugged.
Some people say that the amount of energy that an appliance bleeds out is barely significant. Even if it's just a few hundred saved per month, that's still more than you'd have if you didn't. Plus, you'll have more peace of mind knowing that nothing would short circuit and burn while you're away. Trust me, house fires cost a lot of money even with home insurance.
Call your credit card company
If you're traveling overseas, telling your credit card company about going abroad minimizes the possibility of your card being cut off for suspicious purchases. While you'll be thankful for their strict compliance with security, losing credit card access while you're in a different country could be a pain.
Be sure to let your credit card company know the country you'll be in and the dates of your trip! Besides ensuring that charges won't be refused during your travels, you'll get alerts when you receive charges from different countries after you've gone home.
Since your provider knows when your return dates are, you can ask them to tag international charges after those dates as suspicious. It's like setting up a post-holiday anti-fraud alert in a ten-minute call.
Research the money culture of your destination
Whether you're going to the province or overseas, different places have different ways of trade and exchange. Some provinces may not have many credit card terminals so you need cash in hand. The same goes for countries like Japan where credit cards aren't part of the everyday culture so you might not be able to buy that quirky souvenir if you don't have bills with you.
Alternatively, some places may have a strong credit card or debit card culture. Getting change for large bills may not be as easy, or may just be easier to go cashless.
A little bit of research goes a long way so do your due diligence. That way, you know just how much paper money you're supposed to carry around with you, and where it'll be more convenient to just carry cards and your digital wallet.