OFW Guide: Passport Renewal for OFWs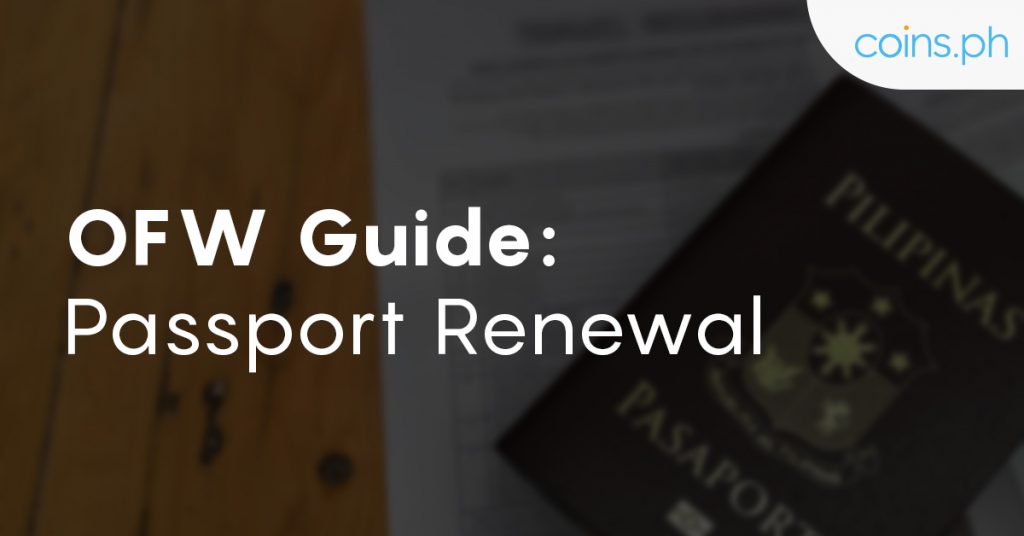 While the Philippine passport's validity extension from five to ten years has helped in lessening the crowd of passport applicants in the DFA and satellite offices, renewing your passport can still be a hassle, especially if you're an OFW.
 To make things easier for OFWs, the DFA has updated their procedures for both OFWs who are in the Philippines and those who are currently living and working overseas:
Passport Renewal OFWs currently in the Philippines
Before, OFWs had to schedule an appointment online via the DFA website just like everyone else. This made securing a passport a little tricky considering that the volume of applicants even for renewal can push your appointment schedule to weeks or even months from the time of scheduling. 
Today, OFWs no longer need to schedule an appointment to renew their passports. Simply walk in to the DFA NCR Central (Robinsons Galleria) and go straight to the dedicated OFW Passport Renewal Center. Processing hours are between 8AM and 12NN and they state that it's inadvisable and unnecessary for you queue before 6AM.
Related: How to Get an OFW e-Card
For Land-based OFWs and Seafarers, you are required to renew passports within 12 months of arrival in the Philippines. Here are the requirements you need to prepare beforehand:
Land-based OFW
Philippine Passport

Proof of Overseas Employment

Two (2) Valid Philippine Government Issued IDs
 Related: 4 Government IDs That are Easy to Apply For
Seafarer
   

Philippine Passport

   

Valid Seaman's Book

   

SRC ID

   

Two (2) Valid Philippine Government Issued IDs
 Related: Community Spotlight: Life of a Seafarer
For OFWs currently abroad
If you're currently overseas and your Philippine Passport is about to expire, you don't need to leave your work abroad and come back home just to renew your passport. 
As an OFW living or working abroad, you can go to your host country's Philippine Embassy or Consulate General (with consular jurisdiction of your current state/region of residence) to process this. It may seem like a hassle, but it's a lot cheaper and less stressful than needing to take a leave of absence, fly back to the Philippines, and deal with the queues back home. 
Just take note that you may need to set an appointment with your consular or embassy beforehand.
 After setting a passport renewal appointment, be sure to bring the originals and photocopies of:
 **Bring cash for processing fees
For paying DFA appointment fees, sending and receiving money through Western Union, paying bills at home, and so much more, Coins.ph helps you skip lines and long queues by letting you handle Wallet matters straight from your app. As long as you have Internet and your mobile, you can do more with your Coins.ph app, anytime even when you're overseas.


Questions or feedback? Email us at help@coins.ph or tap Send us a message in your app. Our operating hours are from Monday – Friday, 9AM – 6PM
Coins.ph is regulated by Bangko Sentral ng Pilipinas (BSP). BSP Financial Consumer Protection Department: (02) 708-7087 or consumeraffairs@bsp.gov.ph