Pag-IBIG Salary Loan vs SSS Salary Loan: What's the Difference?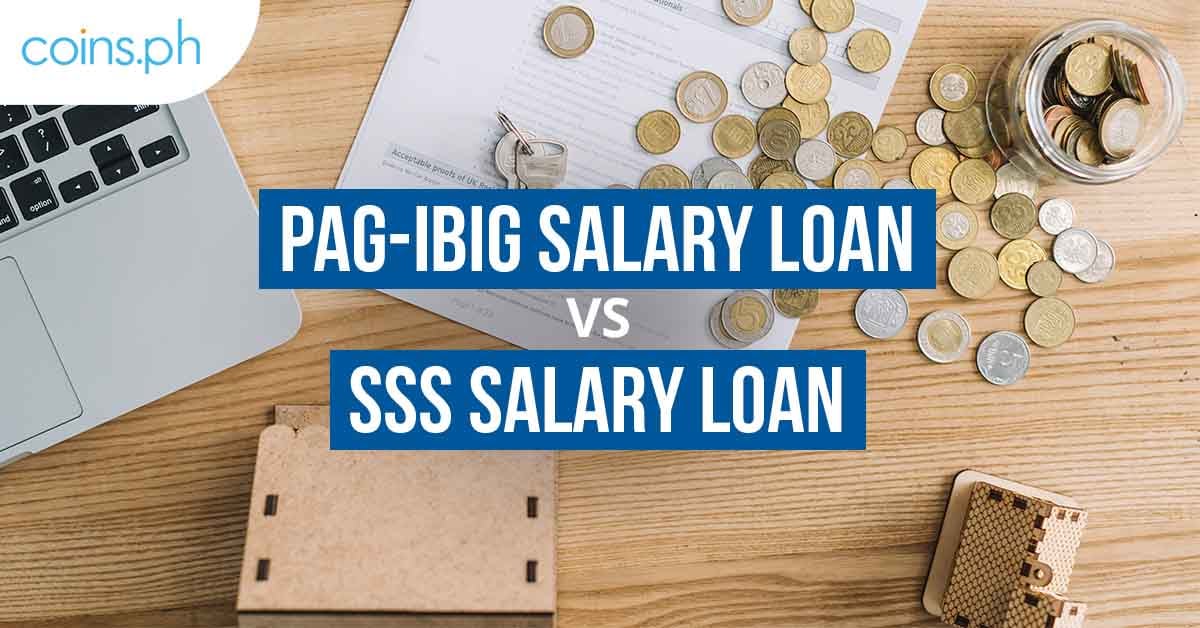 Need cash ASAP? Take advantage of your Pag-IBIG Fund and Social Security System membership by applying for a salary loan, especially during times of emergency and other unforeseen circumstances.
A salary loan is a small amount of money equivalent to your current salary that you can borrow for a wide range of purposes, such as utilities, medical needs, car repair, home improvement, education, and other immediate financial needs.
Classified as a type of personal loan, salary loans offer low interest rates and convenient repayment methods.
But where should you apply for a salary loan? Check out the difference between the Pag-IBIG Fund Salary loan versus the SSS Salary Loan to help you decide which one suits your needs:
Pag-IBIG Fund Multipurpose Salary Loan
SSS Salary Loan
Loan Eligibility

24 monthly contributions

36 to 72 monthly contributions

Loan Amount

60% to 80% of your total accumulated value

Up to P30,000

Interest Rate Per Annum

10.75%

10%

Fees

Late payment penalty: 0.5% of unpaid amount every month

Service fee: 1% of the total loan amount

Late payment penalty: 1% per month

Loan Processing

1-2 weeks

2-3 weeks

Repayment Terms

24 months

24 months
Pag-IBIG Fund Multipurpose Salary Loan
Aside from housing loans, Pag-IBIG Fund also offers a multipurpose salary loan to help you with your short-term needs.
To qualify, you need to be an active Pag-IBIG Fund member with a minimum of 24 monthly contributions – one of which has been paid within the last six months.
The amount that you can loan from Pag-IBIG depends on several factors, like your preferred loan amount and capacity to pay.
If you've been a contributing member for ten years, you can borrow up to 80% of your total accumulated value from your monthly contributions, employers' contributions, and accumulated Pag-IBIG dividends. If not, your amount ceiling is at 60%.
You'll get a fixed 10.75% interest rate throughout your loan term of 24 months. Loan processing typically takes 1-2 weeks.
Though Pag-IBIG Fund doesn't charge any processing fees, you have to pay an additional 0.5% for late payments every month.
SSS Salary Loan
Compared to the Pag-IBIG loan, the SSS salary loan only lets you borrow an amount equivalent to one or two months of your salary, with a maximum limit of P15,000 and P30,000, respectively.
To qualify for a one-month salary loan, you should have made at least 36 monthly contributions in the past –six of them within the last 12 months. For two-month salary loans, 72 monthly contributions are required.
The interest rate is pegged at 10% annually on your outstanding principal balance. That means that the interest you're paying diminishes over time.
You also have to pay a service fee of 1%, plus a penalty of 1% per month for late payments.
It takes two to three weeks for SSS to process your application. Like the Pag-IBIG multipurpose loan, you have to repay your SSS salary loan within 24 months.
You can pay both your SSS and Pag-IBIG Fund salary loans via salary deductions or through any branch, accredited banks, and payment centers. You can also use Coins.ph as a convenient SSS and Pag-IBIG online payment option.  
To do that, select Pay Bills in your Coins.ph wallet and look for Pag-IBIG and SSS in the list of billers. Add your payment details, and you're done!