3 Schools Whose Tuition Fees You Can Pay Using Coins.ph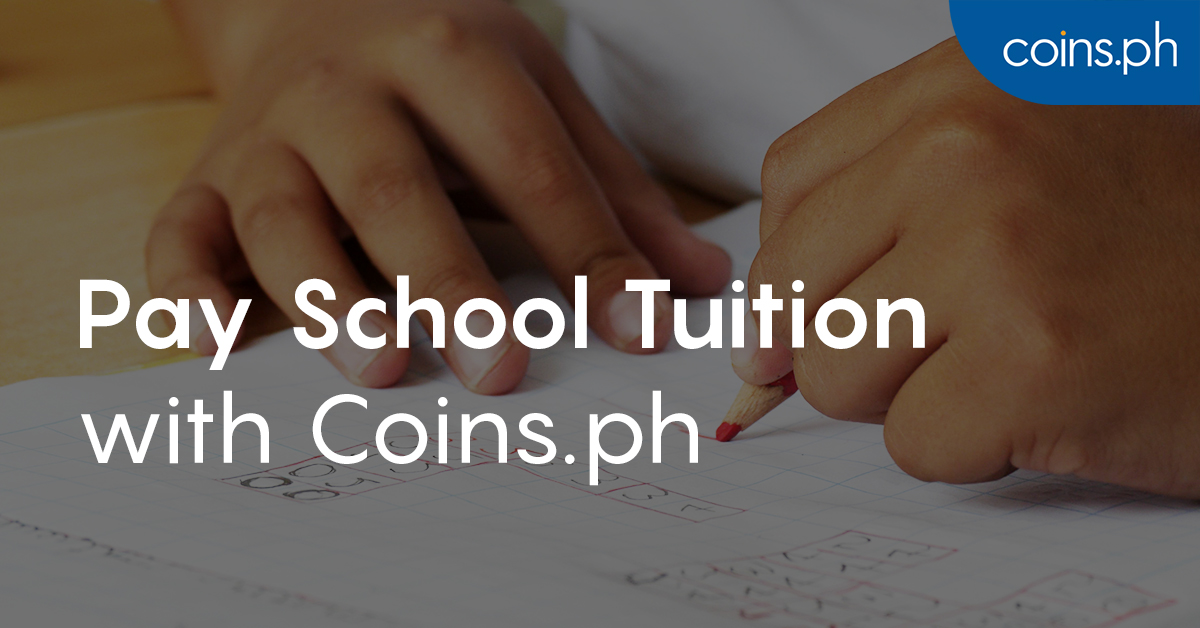 It's back-to-school season! If you're a parent or working student, you're probably looking for a convenient way to pay for tuition fees.
The good news is that many local schools now allow for check and credit card payments. But what happens when you don't have a checking account or a credit card? Or what if you do have a credit card but are unwilling to pay the 0.75% to 1.2% monthly factor rate or convenience fee?
Your option would be to bring cash to the school registrar. However, this can be a hassle because:
ATMs generally have a P20,000 withdrawal limit. If the tuition fee costs more than this, you need to withdraw over-the-counter

Over-the-counter transaction lines almost always have long queues

Carrying cash puts you at risk of theft, loss, and even accidental spending

Queues at schools during tuition time are usually long
When you have a Coins.ph account, however, you can pay tuition fees for schools straight from your phone!
Even if you pay monthly installments, you don't have to worry about convenience fees or monthly interest. Paying school tuition and other bills with Coins.ph is free. As long as you have funds in your Coins.ph wallet, you can pay your school fees anytime and anywhere. No long lines and no long waits.
Here are schools whose tuition fees you can pay with Coins.ph.
La Salle Greenhills
Colloquially shortened to LSGH, La Salle Green Hills is an all-boys private Catholic school run by the Philippine District of the De La Salle Brothers.
LSGH offers specialized tracks including Science, Technology, Engineering and Mathematics (STEM), Accountancy, Business and Management (ABM), and Humanities and Social Sciences (HSS). Their facilities include fully air-conditioned classrooms, a basketball court, soccer field, outdoor swimming pool, computer laboratory, chemistry laboratory, theater, auditorium, library, and playground.
Address: 343 Ortigas Avenue, Mandaluyong City, Metro Manila, Philippines
Phone: (02) 721 0296
Website: http://www.lsgh.edu.ph
Miriam College
Formerly known as Maryknoll, Miriam College (MC) offers basic education, tertiary education, post-graduate studies, and adult education exclusively for women.
Miriam College's goal is to engage more women in STEM, and their basic education unit has a strong focus in building interest and enriching skills towards the sciences and math.
Their tertiary department offers Accountancy and Business Management (ABM) and Humanities and Social Sciences (HSS) courses for those who prefer those tracks. They also have several arts centers specifically for applied music, ballet, language learning, and innovation.
Address: Katipunan Ave., Loyola Heights, Quezon City, Philippines
Phone: (02) 930-MCQC
Website: http://mc.edu.ph
University of San Jose – Recoletos
Founded by the Augustinian Recollects in 1947, the University of San Jose – Recoletos is a private research and co-ed Catholic school that offers, basic education, and tertiary education. Their baccalaureate programs including Arts and Sciences, Commerce, Education, Engineering, Information Computer and Communications Technology, and Nursing.
They also offer graduate studies to further these degrees, law school, and TESDA-accredited programs. USJ-R has a strong focus on faith, Gospel, community, and excellence.
Address: Magallanes Street, 6000, Cebu City, Philippines
Phone: (32) 253-7900
Website: https://usjr.edu.ph
How to Pay Tuition Fees Online with Coins.ph
Paying tuition fees is as easy as paying a bill! Here's how.
Step 1: Cash in to your Coins.ph wallet
Step 2: Tap Pay Bills and scroll to the Tuition Fee slider. Select your school.
Step 3: Enter the amount you wish to pay and tap NEXT
Step 4: Enter the Student ID Number, Student Name, and Due Date
Step 5: Check if all the details are correct and SLIDE TO PAY!