List of Valid IDs in the Philippines – 2021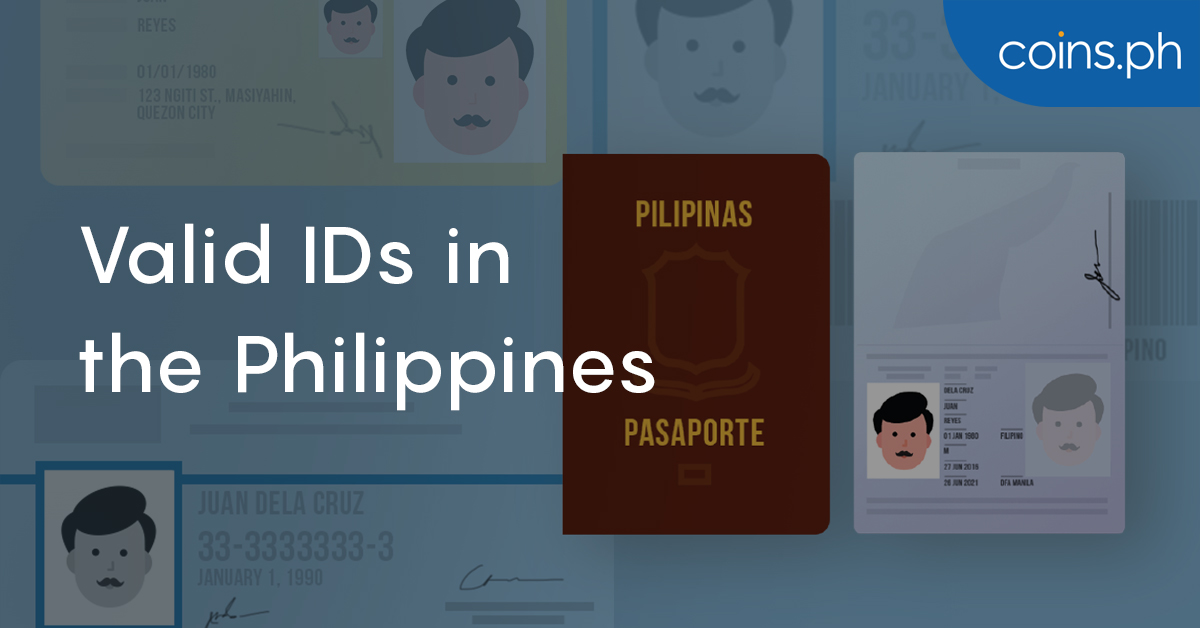 We have a new wave of college graduates Batch 2021 and in the process of seeking employment, they're also starting to apply for valid IDs. For most #adulting things, whether in government, bank, or other private institutions, you will be required to present at least two valid Philippine IDs before any transaction.
Since our government is still collating information and processing the National ID, here is a list of valid IDs you can process today:
Related: What is the Philippine National ID and How to Apply
1. TIN ID
One of the easiest IDs to acquire is the Tax Identification Number ID Card. While you may not be required to carry your TIN card everywhere, you are required to register as a taxpayer before you start your employment. Since you'll already be in the BIR office, you might as well get your TIN ID in the process, it's quick, easy, free, and it's a lifetime ID. 
TIN ID Requirements
Accomplished

BIR registration form 1902

(for new applicants)

PSA birth certificate or one valid ID

Community Tax Certificate

Marriage contract (if applicable)

One recent 1×1 ID picture
How to get a TIN ID
Visit your nearest Bureau of Internal Revenue (BIR) office, submit your requirements, wait for your ID card (one-day processing), paste in your 1×1 photo in the card, and have your new card laminated.
2. PhilHealth ID
Another requirement for employment is a PhilHealth membership. If you're going to process this in your closest PhilHealth office anyway, you may as well get your PhilHealth ID card as well. Just like the TIN ID, it's simple to get, is absolutely free of charge, and is valid for a lifetime.
Requirements for PhilHealth ID
How to get a PhilHealth ID
Visit your nearest PhilHealth Local Insurance Office (LHIO) and submit your requirements. Await for your Membership Data Record and your PhilHealth card.
3. UMID
One of the most powerful valid IDs in the Philippines is the Unified Multi-Purpose ID (UMID). This four-in-one ID card serves as identification for membership in the Social Security System (SSS), Government Service Insurance System (GSIS), PhilHealth, and Pag-IBIG. If you're an existing SSS member with at least one contribution, you may process your UMID application for free in your nearest SSS branch. Take note, however, that it may take up to 30 days to have the actual card delivered to your doorstep but that wait is worth it considering that the ID is valid for life.
Requirements for UMID
Accomplished SSS

UMID card application form

Original or certified true copy of any of the following: 

PSA Birth Certificate

Baptismal Certificate

Driver's License

Passport 

Professional Regulation Commission (PRC) Card

Seaman's Book

Bank Account Passbook or ATM Card with your name
How to get UMID
Head to your nearest SSS branch and submit your requirements and have your photo, fingerprints, and signature taken. Wait for your card to be delivered and then activate your card in your nearest SSS branch or mall kiosk.
For freelancers, OFWs, non-working spouses, and other voluntary members, you can stay up to date on your SSS contributions with Coins.ph! In your app, just tap Pay Bills, select SSS contributions, choose your membership type, enter your details and slide to pay!
4. NBI Clearance
While not technically an ID, some institutions still accept the NBI Clearance as valid identification for transactions. The best part is, getting your clearance is simpler than ever with their integrated online application and scheduling system. Take note that your NBI Clearance is only valid for six months to one year.
Check out our article on How to Apply for Your NBI Clearance Online for 2021 for a step-by-step guide on the application process as well as how to pay for the NBI Clearance fees online through your Coins.ph app!
Related: 4 Valid IDs You Can Apply For Online
5. Voter's ID
You have a right to vote for the upcoming leader of our nation so if you haven't yet, #MagpaRehistroKa na! Just submit at least 2 valid IDs with your current address, and the accomplished COMELEC Voter Application Form to your local COMELEC office and have your fingerprints and signature taken. This is also free and lasts for a lifetime. However, you may need to re-activate your registration if you miss two consecutive elections.
Take note that since COMELEC deals with millions of records, it may take months up to years before you can receive your Voter's ID
6. Postal ID
PhilPost just released their new and improved Postal ID with upgraded security features. You can use this to validate your identity and address for transactions with both private and government offices. Take note that its validity is only for 3 years and it does have a transaction fee of PHP 504 (VAT included).
Requirements for Postal ID
Two copies of the accomplished

PID Application Form

Proof of identity

PSA Birth Certificate

UMID Card

Driver's License

Passport

Proof of address

Bank Statement

Barangay Certificate of Residency

Certified True Copy of Lease
How to apply for Postal ID
Submit the requirements to your local PHLPost branch and have your fingerprints, signature, and photo taken. Wait 15 to 30 days (depending on your location) to receive your Postal ID card.
7. Driver's License
The most difficult ID to acquire would be your Philippine driver's license as all three types (student, non-pro, and pro) require medical, theoretical, and practical examinations before you can even process the identification card. This Land Transportation Office (LTO) issued ID is valid for 5 years and costs PHP 318 to PHP 820 to process.
8. Passport
Just like the NBI Clearance, getting a passport is made simpler with the online application and scheduling system of the Department of Foreign Affairs (DFA). This powerful ID comes with a PHP 950 to PHP 1200 transaction fee, but is valid for 10 years. Find out more about the Philippine Passport requirements and online application process in our article on How to Apply for a Philippine Passport Online.
Paying for your DFA appointment and Philippine passport is as easy as scheduling it online. Check out our guide on How to pay for my DFA appointment online through Coins.ph for more details.


Questions or feedback? Send us a message via https://support.coins.ph/hc/en-us/requests/new. Our operating hours are from Monday – Friday, 9AM – 6PM
Coins.ph is regulated by Bangko Sentral ng Pilipinas (BSP). BSP Financial Consumer Protection Department: (02) 708-7087 or consumeraffairs@bsp.gov.ph