Receive Western Union Money Transfers in your Coins.ph Wallet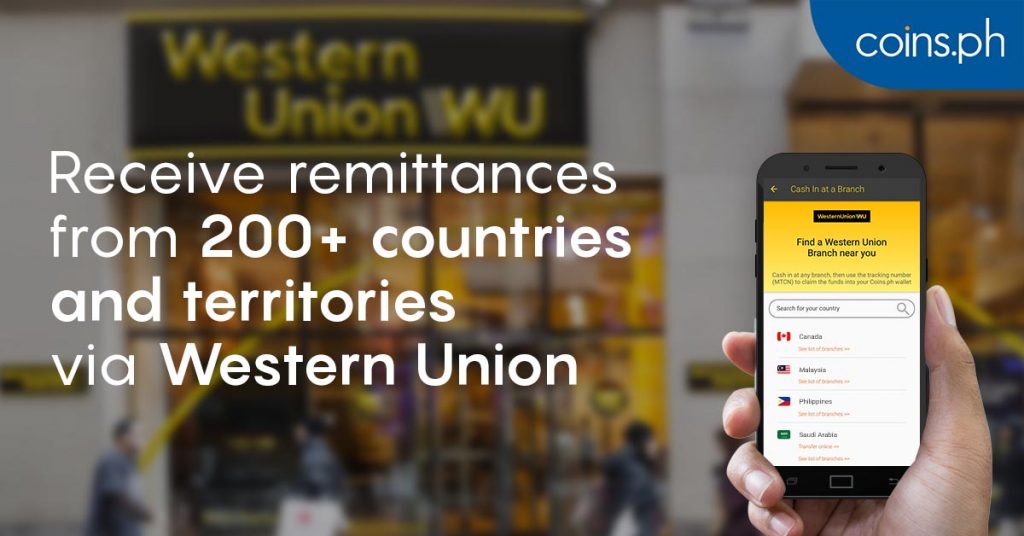 Coins.ph, one of the Philippines' leading e-wallet providers, and The Western Union Company, a leader in cross-border, cross-currency money movement, today announced a collaboration to enable more than five million customers to receive international and domestic money transfers directly into their Coins.ph wallets in the Philippines
The unique integration of the Coins.ph blockchain-enabled platform and Western Union's cross-border platform allows Filipinos to receive and hold international money transfers initiated from Western Union's digital network in more than 60 countries and retail network in more than 200 countries.
"There are many overseas Filipino workers who send money back home regularly and are always looking for additional remittance options that will make it most convenient for their loved ones to receive money," said Ron Hose, Coins.ph co-founder and CEO "By pairing Coins.phs payments technology with Western Union's expansive global network, we are giving Filipinos a seamless choice to receive money digitally, on the go."

"There are an estimated 10 million Filipinos working or residing overseas. With this collaboration, we are proud to serve their families back home with even easier access to our suite of services and maximize positive impact on communities in the country," added Hose.
With over five million Coins.ph wallet holders in the Philippines, the agreement signals the continued efforts of both companies to offer millions of Filipinos quick and convenient access to remittances, in urban and remote underserved areas.
"Over the years, Western Union has fueled innovation centered around the needs of customers, giving them their choice of channels, currencies, access and opportunities to connect with family and friends around the globe," said Molly Shea, Senior Vice President & General Manager, Global Money Transfer, Asia Pacific, Western Union. "With this collaboration with Coins.ph, we are delighted to offer customers in the Philippines with an unmatched depth of services and capabilities, and convenience right at their fingertips."
Remittances are crucial for millions of Filipinos. According to the World Bank's Migration and Remittances Brief 302, the Philippines is one of the top remittance receiving countries in the world. Western Union has been providing money transfer services in the Philippines since 1990 and has more than 12,000 Agent locations in the country.
How to receive Western Union Money Transfers
Receiving Western Union money transfers in your Coins.ph wallet is simple. Once the money has been sent through Western Union, you just need to ask your sender for the reference number (MTCN) and the amount that was remitted.
Enter this information in your Coins.ph app and you will instantly receive the funds in your Peso Wallet. This service is available for ID and Selfie verified customers only.
Read: Step-by-step guide to receive Western Union transfers
About Coins.ph
Coins.ph's mission is to make financial services easily accessible to anyone, including those without a bank account, through their mobile phone. Using Coins.ph, customers have access to a mobile wallet and services such as remittances, mobile air-time, bill payments, transportation providers and digital currency purchase. Coins.ph is regulated by the Bangko Sentral ng Pilipinas (BSP) and is the only blockchain-based company in Asia to hold both Virtual Currency and Electronic Money Issuer licenses from a central bank.
About Western Union
The Western Union Company (NYSE: WU) is a global leader in cross-border, cross-currency money movement. Our omnichannel platform connects the digital and physical worlds and makes it possible for consumers and businesses to send and receive money and make payments with speed, ease, and reliability. As of December 31, 2018, our network included over 550,000 retail agent locations offering Western Union, Vigo or Orlandi Valuta branded services in more than 200 countries and territories, with the capability to send money to billions of accounts. Additionally, westernunion.com, our fastest growing channel in 2018, is available in more than 60 countries, plus additional territories, to move money around the world. In 2018, we moved over $300 billion in principal in nearly 130 currencies and processed 34 transactions every second across all our services. With our global reach, Western Union moves money for better, connecting family, friends and businesses to enable financial inclusion and support economic growth. For more information, visit www.westernunion.com