6 Reasons to Accept Coins.ph's Cashless Payments at Your Business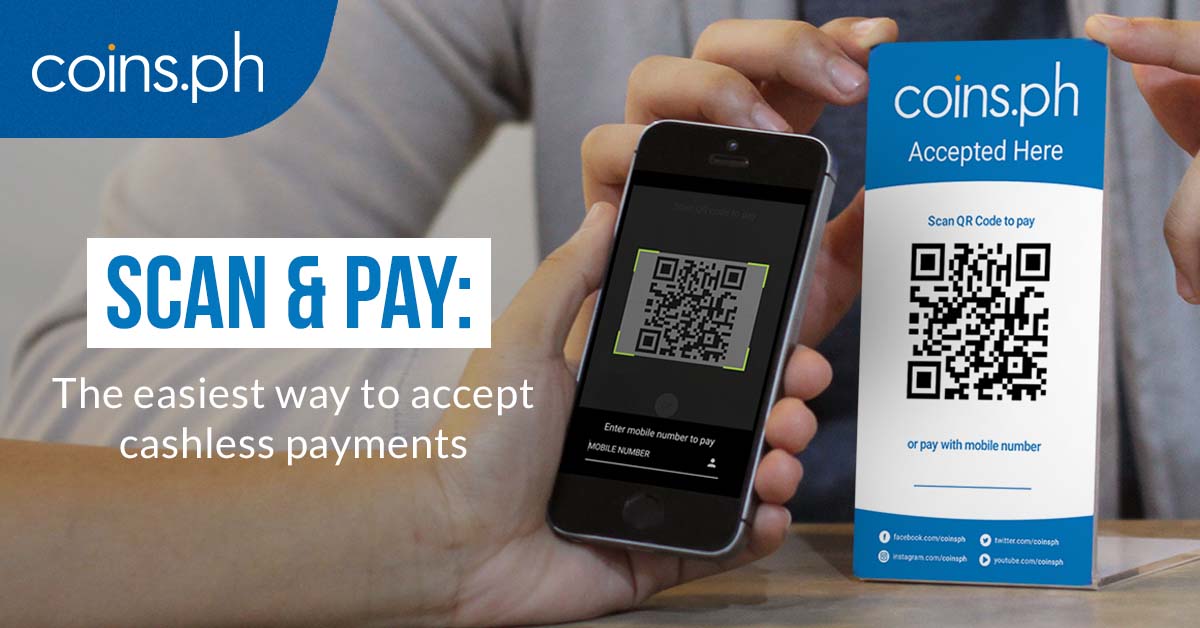 Cash may be king in the Philippines, but a growing number of Filipinos are clamoring for cashless payments. According to Visa's Consumer Payment Attitudes Survey, 62% of Filipinos think carrying cash is unsafe, while 57% preferred faster transactions, which are made possible with electronic payments.
To meet this demand, a growing number of businesses are making cashless payments available to their customers. And Coins.ph is making it easy for businesses to accept digital payments.
Coins.ph recently launched Scan & Pay – a cashless payment solution that lets your business receive payments from over 2 million Coins.ph customers through your unique QR code.
Start using Scan & Pay by creating a Coins.ph account and printing your QR code.
Here's how Scan & Pay can make life more convenient for you and your customers.
1. Easy to Set Up
We designed Scan & Pay to make it easy to get started. You can start offering your customers quick and easy payments the very same day you register for an account!
All you need to do is create a Coins.ph account for your business. Then, under the Send tab, tap on Receive, print out your QR code, and display it near your register. To pay you instantly, customers with a Coins.ph wallet simply needs to scan the QR code.
2. 2+ Million Coins.ph Customers Ready to Pay You
Your business's QR code is ready to be used by anyone with a Coins.ph account. Currently, there are over 2 million Filipinos who use Coins.ph to pay bills, buy load, or send money. Chances are good that your customers are among them, with funds readily available in their Coins.ph wallets.
Give them the option to pay using their Coins.ph account and complete their transactions in less than 5 seconds. The funds appear in your business's Coins.ph wallet instantly!  
3. No Fees or Maintaining Balance
Scan & Pay is free for businesses to use. We don't charge transaction fees, and there's no minimum maintaining balance required. You can easily cash out all your funds to your bank account or cash pickup center at no extra costs, and no interruptions to the service.
4.  Cash Out Options
Cashing out your funds is incredibly convenient. You can cash out through major banks in the Philippines, as well as Globe Gcash, Cebuana Lhuillier, LBC Pesopak, 2GO QuikCash, LBC Peso Padala, Sendah Remit, and Cardless ATM Instant Payout.
5. Save Time for Your Customers and Staff
Transaction time dramatically speeds up when you don't use cash. With Scan & Pay in place, you'll have shorter queues and faster transaction times, making life easier for customers and your staff.
When your customer scans your QR code with their phone, they send funds directly to your business' Coins.ph account. Funds arrive instantly in your wallet, without the hassle of making change. The whole Scan & Pay process doesn't even take five seconds to complete.
This lets you deploy your staff more efficiently, allowing them to focus on doing what they do best: providing your customers with the greatest experience possible.
6. Better Security
Once you start accepting electronic payments, you won't have to keep enormous amounts of cash in your store premises, thus reducing your security risk.
Cashless payments are also safer for your customers, as they don't have to carry cash or plastic cards that can be stolen anytime.
And when it's time to compute what you've earned for the day, there are fewer chances of human error since you don't have to count your earnings manually. It's all recorded online, making it easier to track your revenue.
Start Accepting Coins.ph at Your Business
Dozens of businesses in Metro Manila now accept Scan & Pay. With cash being less attractive to a growing number of Filipinos, now is the time to get ahead of the curve and accept digital payments at your business.
Start using Scan & Pay by creating a Coins.ph account and printing your QR code. Then place it prominently at the cash register to begin offering your customers the convenience of cashless payments.
Learn more about Scan & Pay here.