Fun Facts About USDC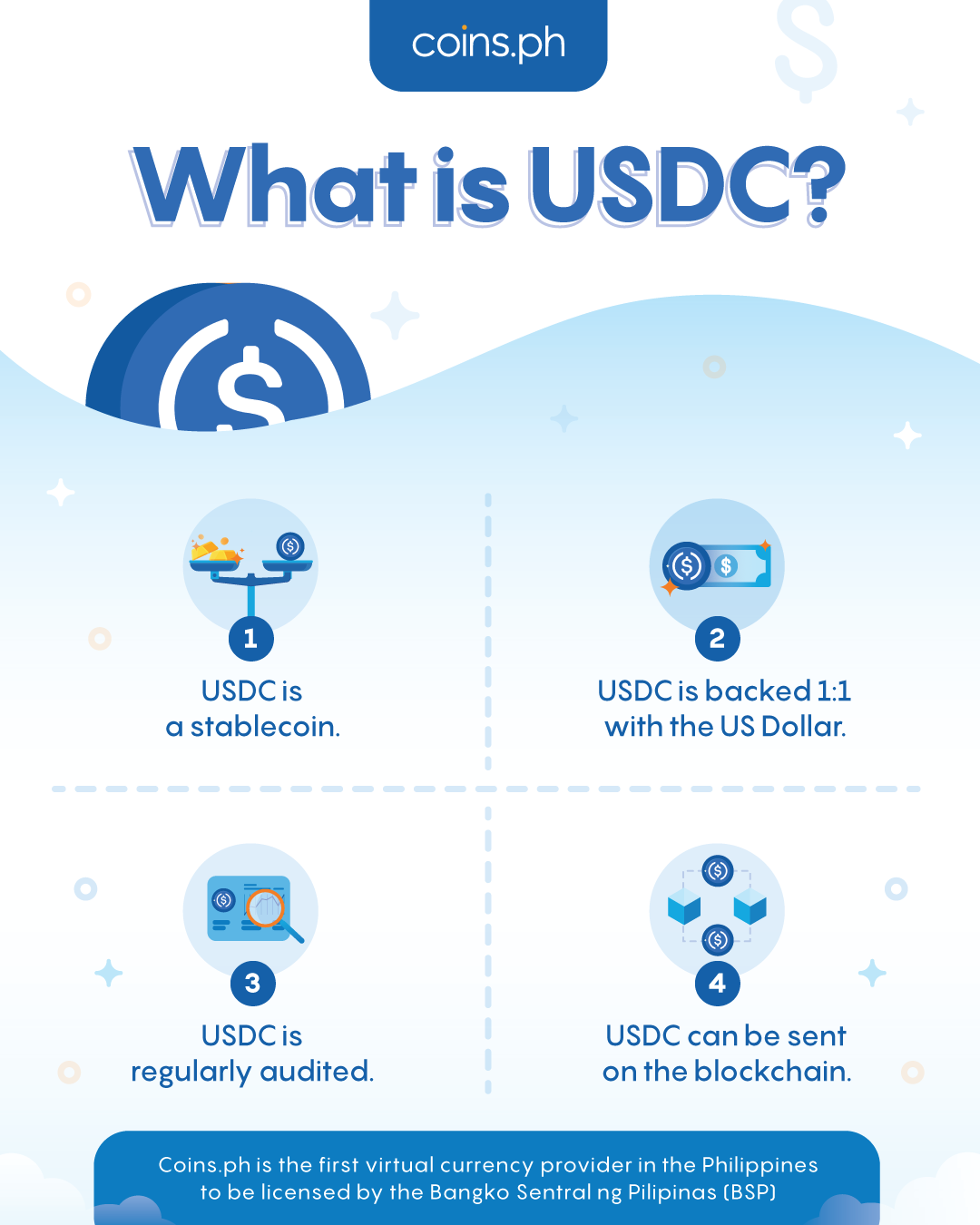 USDC is the latest cryptocurrency that you can buy and sell on the Coins wallet. Here are some of main things you need to know about USDC:
Related: What is Cryptocurrency?
1. USDC is a stablecoin
A stablecoin is a type of cryptocurrency designed to reduce volatility by pegging itself to stable assets like gold or fiat currency. USDC is a stablecoin pegged to the value of the US dollar. 
2. USDC is backed 1:1 with the US dollar
For every USDC created, there is a real US dollar backing it up in a reserve maintained by Circle, a peer-to-peer payments technology company, and Coinbase which is the world's largest cryptocurrency exchange in the United States.
3. USDC is regularly audited
Unlike other stablecoins, USDC provides full transparency shown through regular audits. The monthly audits are done by Grant Thorton LLC, a top five accounting firm and is publicly available in this link: https://www.circle.com/en/usdc
4. USDC can be sent on the blockchain
With USDC, you no longer need a bank account or remittance service to send dollars across the world. All you need is a Coins.ph account with a USDC wallet and you're good to go!
Buy and Sell Cryptocurrency with Coins.ph
With your Coins Wallet, you have an all-in-one platform where you can safely buy, sell, and store your cryptocurrency at any time of the day.


Questions or feedback? Email us at help@coins.ph or tap Send us a message in your app. Our operating hours are from Monday – Friday, 9AM – 6PM
Coins.ph is regulated by Bangko Sentral ng Pilipinas (BSP). BSP Financial Consumer Protection Department: (02) 708-7087 or consumeraffairs@bsp.gov.ph