Here's What the TRAIN Law Means for Filipinos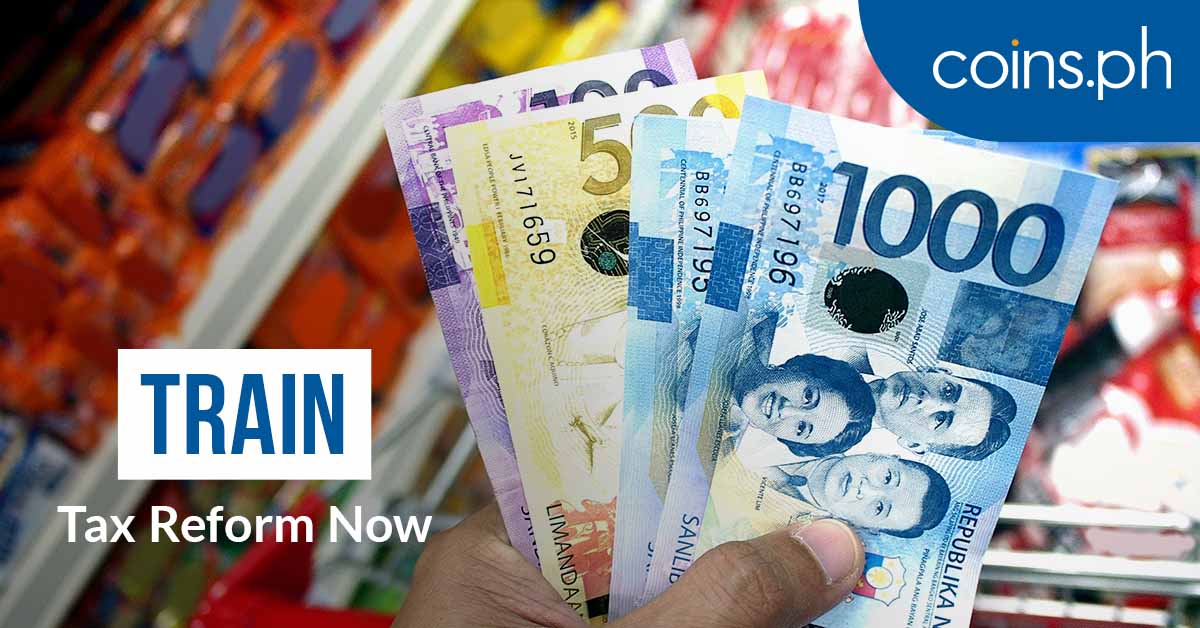 The much-talked-about Tax Reform for Acceleration and Inclusion or TRAIN Law is finally here, immediately taking effect at the start of 2018.
Many dubbed it to be a blessing for those trying to make ends meet with their meager salaries, while others branded the TRAIN law as anti-poor because it set a chain of price increases for consumer products.
To set the record straight, here are some of the most impactful changes the ordinary Filipino will experience in 2018 because of the TRAIN law.
You'll enjoy higher take-home pay
One of the most publicized parts of the TRAIN law is the reduction in personal income tax, leading to higher take-home pay.
In the past, the tax rate ranges from 5% to 32%, depending on your tax bracket. But with TRAIN, you no longer have to pay for personal income tax if you're an employee earning P250,000 or less every year. Tax exemption also covers 13th-month pay and other mandated bonuses, giving you more chances of saving money.
Self-employed individuals earning less than P3 million annually also have the option to avail of the 8% fixed tax rate instead of the graduated income taxes.
One caveat, though: Personal and additional exemptions for dependents have been removed under the new law.
Sweetened beverages cost a bit more
Are you fond of drinking sodas and other sugar-filled beverages? It's time to bid them adieu if you don't want to pay the new excise tax on sweetened beverages.
In a bid to reduce the incidence of obesity and diabetes, the TRAIN law taxes sugar-sweetened beverages P6 per liter, while those with high fructose corn syrup are taxed P12 per liter. Milk products, natural fruit and vegetable juices, and pre-packaged coffee products are exempted.
Cigarettes are more expensive too
The TRAIN law also seeks to curb the number of smokers in the country, which is why it also imposed an excise tax on cigarettes.
Cigarette prices will increase by P2.50 increments beginning this year until 2023. By 2024, there'll be a price increase of 4% every year.
Car owners have to pay more taxes
Planning to buy a car? You better do it soon because excise taxes doubled from 2% to 4% for cars worth P600,000 and below.
If your car is worth more, your tax goes up from 10% to as much as 50% for vehicles worth over P4 million. You'll only be exempt from paying taxes if you're driving purely electric vehicles and pick-ups.
But even if you already have your own car, you still have to keep up with the P8 tax increase on petroleum products. Even diesel, kerosene, and LPG will now have taxes ranging from P1 to P3 per liter.
It might be bad for your pocket, but this move can hopefully control the horrid Metro Manila traffic and help save the environment.
Taxes for taxable documents have doubled
The TRAIN law also doubled the documentary stamp taxes (DST) on all taxable documents, such as bank checks, life insurance policies, pre-need plans, warehouse receipts, powers of attorney, mortgages, and sales documents.
It may not be of immediate consequence to you, but it's good to keep this in mind when getting these documents.
There's a higher threshold for value-added tax
The TRAIN law increased the VAT threshold from P1,919,500 to P3 million, thus lessening the burden of ordinary taxpayers.
As usual, sectors exempted from VAT include small businesses with less than P3 million annual income, health and education, persons with disability, and senior citizens.
There are also other notable VAT exemptions, such as medicines for diabetes, high cholesterol, and hypertension, as well as association dues and membership fees collected by homeowners' associations and condominium corporations.
If you're renting your home, the increase of VAT exemption from P12,800 to P15,000 is also a welcome reprieve.
While the TRAIN law increases the price of basic goods and commodities, you'll be able to enjoy higher take-home pay because of the decrease in personal income taxes. It's up to you to budget your money, form healthier money habits, and minimize spending on stuff that you don't need.