Which Smart Internet Promo is the Most Sulit?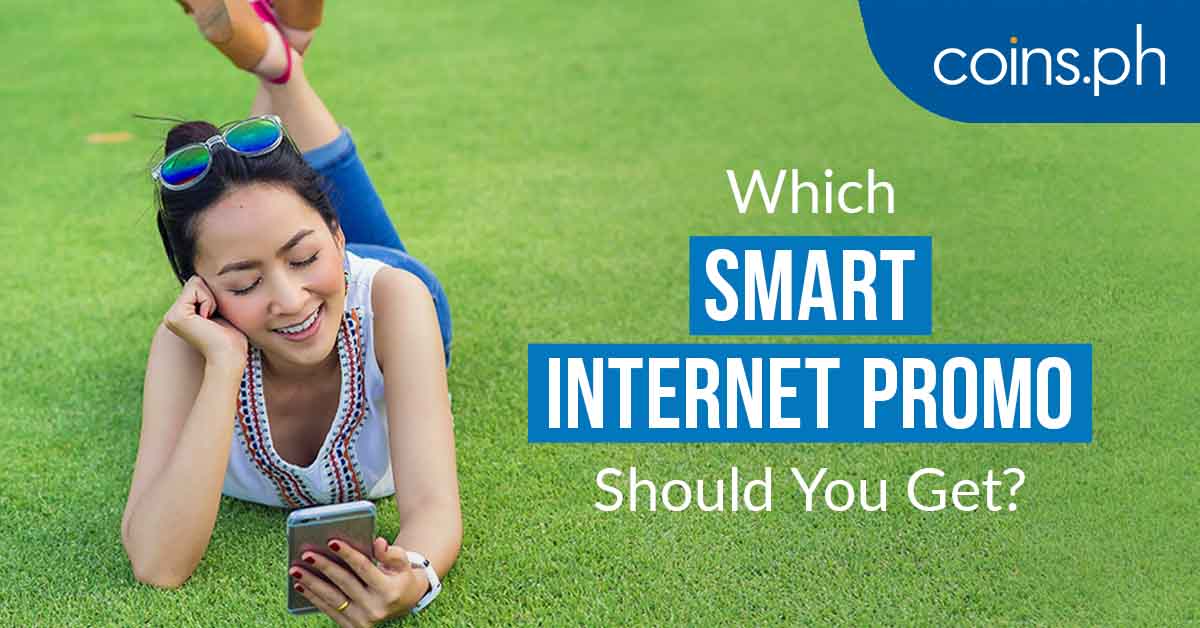 Last week, we compared Globe internet promos to find which one gives you the best bang for your buck. This week, we take a look at which Smart internet promo is best suited to your lifestyle.
Can you guess which one is the most sulit?
Smart Internet Promos

Promo
All Out Surf 30
All Out Surf 50
All Out Surf 99
GigaSurf 50
MB

300 mb

600 mb

1 GB

1 GB

Price

P30

P50

P99

P50

Validity

2 days

3 days

7 days

3 days

Best For

Quick internet access

Moderate surfing and social media use

Light daily internet use

Heavy internet use
Tip: create a Coins.ph account and get a 10% instant rebate when you buy Smart load and Smart internet promos!
*10% rebate on your first Php 2000 worth of Buy Load transactions. After reaching this reward limit, you get 5% rebate every time you Buy Load. The 10% reward limit resets every month.
All Out Surf 30
The cheapest of the Smart prepaid data options, this promo is perfect for when you need internet in a pinch – like if you'll be in traveling locally, or if you'll be away from a dependable wifi source.
The unlimited Facebook and texts, and 30 minutes talk time are definitely a plus, and 150mb is just about enough for messaging apps, email and maps, and your Coins.ph wallet. But if you use apps that consume a lot of data, like video or gaming apps, this is not the plan for you.
All Out Surf 50
With All Out Surf 50, you get an additional 200mb to consume over an extra day. If you do the math, you actually get more mb to use per day, BUT you're paying more per day too.
However, if you do need to access more data in a shorter period of time, this plan will work really well for you. It's the perfect plan for a weekend trip: you can share all your photos on Facebook, and call or text your family that you're having a great time.
All Out Surf 99
Per day, this comes out as the cheapest Smart data promo. 1 GB may seem like a lot, but spread over 7 days, it's actually less than you think. You'll have to budget your online time wisely.
This plan is great for light internet use. So if you regularly have a wifi connection and you just use your data while on the go, this plan gives you the most out of your peso per day.
Giga Surf 50
1 GB of data for P50, plus 300mb for videos, AND unlitext, that's awesome! This plan could use longer validity, but if you're a heavy data user, 3 days is really just right for 1gb.
If all your friends are on Instagram anyway, and you like to browse photos and videos a lot, this plan is the one for you.
The Winners: Giga Surf 50 and All Out Surf 99
Giga Surf 50 is perfect if you consume data heavily and quickly and use your phone as your primary source of internet. All Out Surf 99 is better if you already have wifi in the office or at home, and you just use your phone for light surfing.
Both plans give you the best value for megabyte, so it really depends on how much and how often you use your data.
Get 10% Rebate on Smart Data Promos
Whatever internet promo you decide to get, make sure to buy load through Coins.ph. Besides being incredibly convenient (no need to go to a loading station!), you also get an instant 10% rebate when you load up or subscribe to a promo. You can also buy Smart unli call and text promos instantly, without registering for the promo.