Essentials for Work from Home Productivity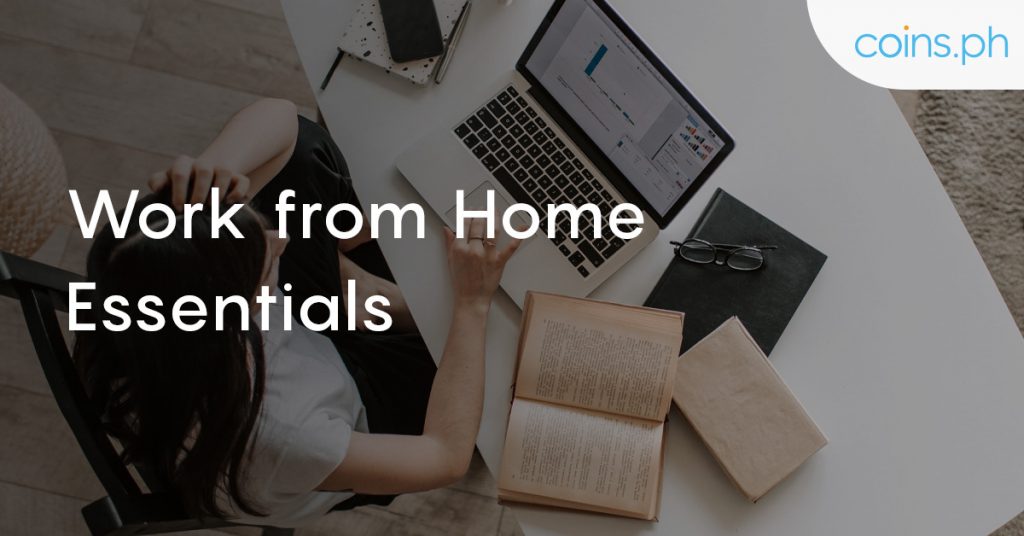 Seems like working from home is going to be a long-term part of our new normal which means you might need to upgrade from a temporary home office set-up to a more comfortable (and possibly permanent) one.
Related: 7 Tips to Cope in the New Normal
Now is the perfect time to get some of these work from home essentials in the Philippines:
1. Comfortable Work Chair
Other than providing comfort, a nice office chair encourages good posture even during long periods of sitting. While it may be cheaper and easier to use any chair in your home, remember that the consequence of a bad chair is a back injury somewhere down the line.
Try: Mesh Breathable Office Chair (SALE 10.10)
Shop online and pay online with Coins.ph. With Coins, you can pay for your Shopee purchases straight from your Wallet or top up your ShopeePay account online instantly.
2. Dedicated Work Desk
Not all of us are privileged enough to have a dedicated home office. However, we can save up for a dedicated work desk.
It helps set our mind to "work mode," limits distractions, and helps set boundaries with the rest of the household. Just be sure to first verbally communicate to your household members that you staying in your workspace means it's work time and quiet time.
Try: 1 Layer Foldable Home Study Table
3. Blue light filter
While the blue light on your digital screens gives you vivid and true-to-life colors, it also strains and causes inflammation to your eyes, and suppresses the production of melatonin (sleep-inducing hormone) with unregulated long-term exposure.
Be sure to turn on blue light filters on your devices or download blue light filter apps for eye safety and better sleep.
Try: f.lux Free blue light filter for desktop
4. Lamp
Speaking of eyestrain, one more way to keep your eyes healthy is by making sure that you have sufficient ambient lighting. When it comes to daily digital tasks, your ceiling light may not be the best option.
A good lamp with warm settings not only gives you proper ambient light but also helps you look fresh during conference calls and video recording sessions.
Try: Multifunction Reading Desk Lamp with Pen Holder
5. Stable Internet Connection
Perhaps the most important work-from-home essential is a stable internet connection. Without it, you just won't be able to get any work done. Make sure you avoid internet interruptions by paying your bills on time.
Tip: Using your Coins Wallet, you don't even have to step out of your home to pay your internet bills. Just sign in to your Coins.ph app, tap Pay Bills, select your provider, enter your details, and slide to pay! (Read: What Bills Can I Pay Using Coins?)
6. Back-Up Internet
No matter how stable your internet connection is, service outages due to maintenance, upgrades, or other unforeseen circumstances are unavoidable. Make sure that you have a back-up prepaid internet in case your broadband ever goes down. If you can, try to get prepaid internet from a different provider.
Tip: Top up your Smart, Globe, or PLDT Home WiFi instantly using your Coins Wallet! Just tap Buy Load, enter your prepaid WiFi mobile number, then load up.
7. WiFi Repeater
If your workspace doesn't have the best signal, a WiFi repeater can help boost reception even in the hardest-to-reach areas of your home. Ask your provider if they have options or buy an inexpensive one online.
8. Headset
This one is a must-have if you want to have better and more productive meetings. With a good headset, you can focus better on your online calls and allow the people on the other line to hear you better with built-in noise-canceling features on both the speakers and microphone.
9. Sound filter software
Sometimes, your household can get quite rowdy. When the noise-canceling features in your mic just aren't enough, a sound filter software can dampen noise further. No need to worry about your clients or co-workers hearing chickens crowing, children playing, or your neighbors singing off-tune karaoke.
Try: Krisp (Free version)
10. Virtual background
Although it seems like just a play tool for kids, virtual background apps can actually help you in your professional life. Whether you forgot to tidy up before the meeting or people keep walking in the line of sight of the camera, a virtual background app lessens visual distractions for the person on the other line — helping you have a more focused and productive meeting.
Try: Snap Camera
For 7 Tips to help WFH Productivity and more work-from-home tips, check out the Coins.ph blog.

Questions or feedback? Email us at help@coins.ph or tap Send us a message in your app. Our operating hours are from Monday – Friday, 9AM – 6PM
Coins.ph is regulated by Bangko Sentral ng Pilipinas (BSP). BSP Financial Consumer Protection Department: (02) 708-7087 or consumeraffairs@bsp.gov.ph