Coins Arcade is a web3 gaming launch pad within the Coins app, where users can play Web3.0 games and store your earned tokens on a Coins Web3 Wallet. Coins Web3 Wallet is a Web3.0 wallet, or specifically a MPC (Multi Party Computation) wallet.
What is a MPC (Multi Party Computational) Wallet?
An MPC wallet is a type of smart contract wallet that leverages Multi-Party Computation technology for wallet providers and custodians to securely control and manage digital assets on the blockchain. Unlike traditional wallets that rely on a single private key, MPC Wallets use advanced cryptographic techniques to ensure that the private key is never exposed or stored in one location, adding an extra layer of security.
What this means for Coins.ph users:
Users can reset their MPC wallet passcode and not lose access to all their existing game assets
Users would need to set a 8 character alpha-numeric passcode with a special character for added security layer
How to create Coins Web3 Wallet?
Coins Web3 Wallet is currently available for Coins.ph users. As a user of Coins.ph, you can activate your wallet by visiting the  homepage on your Coins App!
If you don't have a Coins Account yet, sign up to get access to Coins Web3 Wallet.
Setting up your Coins Game Wallet
Once you tap in, you will see the homepage of Coins Arcade. To proceed, tap on "Play" on the games you would like to play.

If this is your first time accessing Coins Arcade, the application will prompt you to create a wallet before moving forward.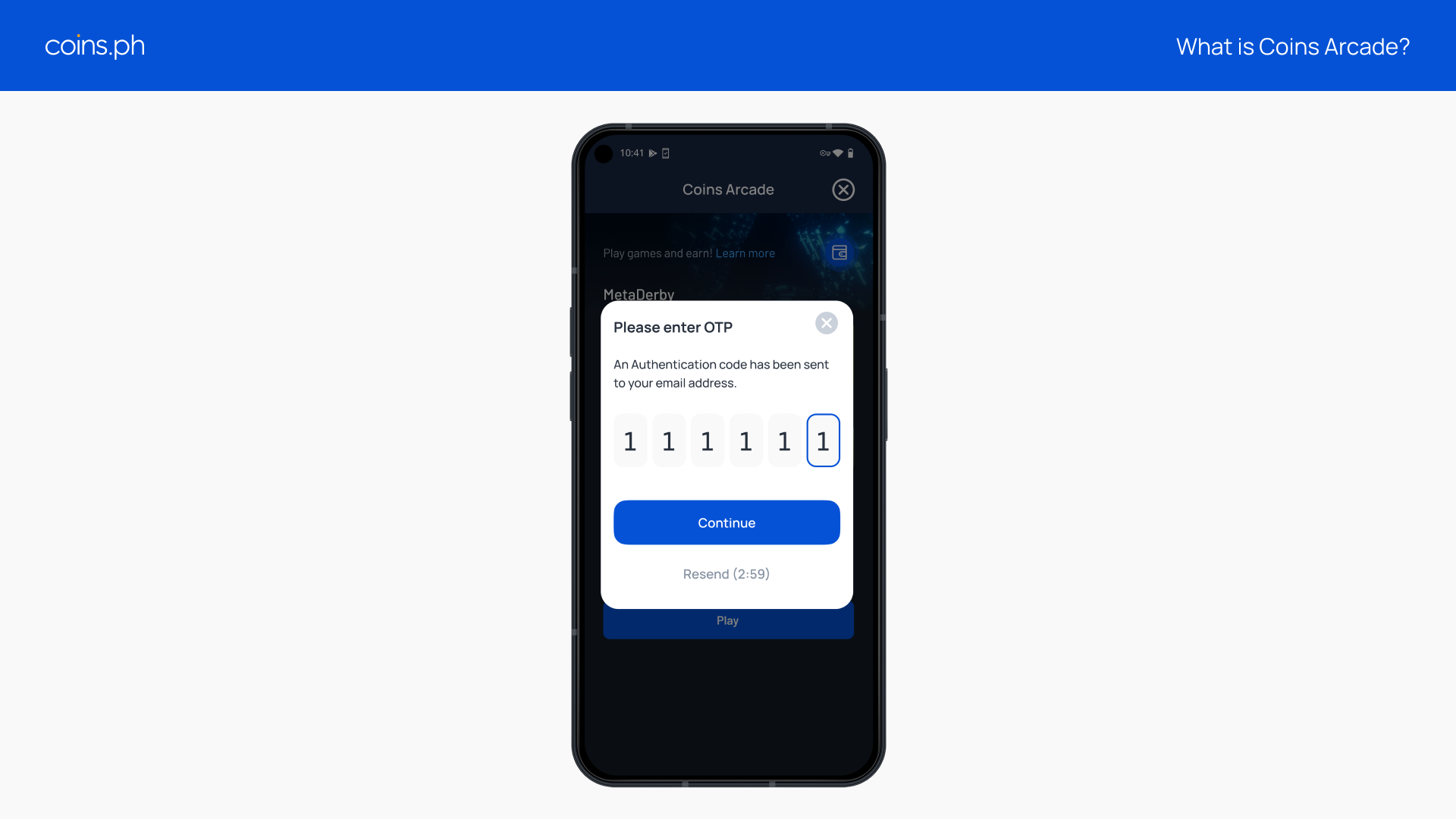 The 8 character passcode is the pin to open and access your wallet. This passcode should be kept secret.
Coins Arcade is currently only available for iOS 13 & above and Android 6 (Marshmallow) & above
Upgrading your existing wallet

If you have already created a Coins Arcade wallet with a 6 digit pin, you will be prompted to upgrade to an MPC wallet to enjoy all the benefits of a more secure wallet solution.
All you need to do is create a new 8 character alphanumeric passcode and you are all set.
Games Available in Coins Arcade
Coins Arcade currently supports MetaDerby, a play-to-earn game, but more titles will be added as improvements are made to the wallet to help our users to get on board with the Web3!
Once set up, you can start playing games that are available on Coins Arcade. Do note that the wallet will prompt you to connect to your wallet, which you should pick "GO23".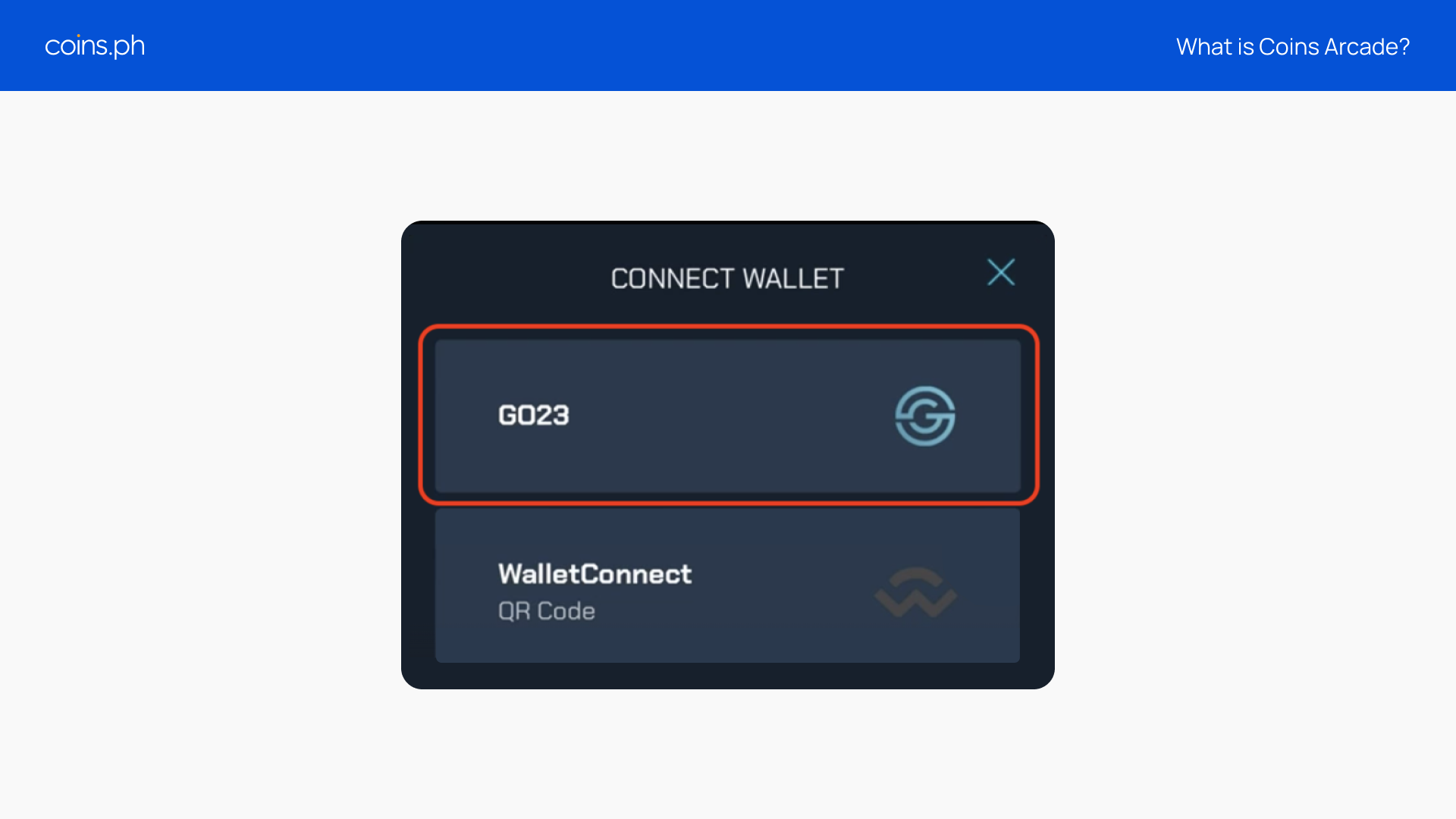 MetaDerby is the first Free-To-Play, Play-To-Earn horse racing metaverse built on Avalanche (AVAX). Anyone can start earning in MetaDerby as users are given a starter horse when they create an account.
The Free-To-Play model allows users to earn $HOOF through Horse Races, Horse Breeding, Create-To-Earn land systems, Defi Staking, and buying or selling NFTs.
On top of that, players can get extra tokens when they complete daily quests or refer a friend.
MetaDerby Tokenomics
MetaDerby runs on a dual token system similar to Genopets, a Move-To-Earn game. $HOOF is the in-game currency that is also used as a gas fee. $HOOF is used to pay for entry fees for horse races, stable fees for the male horse, breeding, purchasing mystery boxes, and construction of farmlands and race courses.
Derby ($DBY) is the governance token for MetaDerby-verse. As a holder of $DBY, users can use the governance token to purchase land, provide liquidity, and also participate in decision-making processes related to the development and direction of the game.
How to play MetaDerby?
To start MetaDerby, one will require a Web3 wallet. An example of a supported integrated wallet would be Coins Game Wallet. Alternatively, users can create a MetaMask.
Once your wallet is set up, you need to access MetaDerby website via Coins Arcade or your own self-hosted Web3 wallet.

Starting MetaDerby Horse
To start with MetaDerby, you can purchase your first horse from MetaDerby Marketplace. However, you will need $HOOF, which you can purchase from TraderJoe, and transfer $HOOF and $AVAX ($HOOF to pay for purchases, $AVAX for transaction fees) into Coins Arcade with the public address shown.
MetaDerby Marketplace allows you to purchase Horses, Gear, and even mystery Boxes which can give your horses advantages over your competitors!
Otherwise, you can get a free horse by participating in MetaDerby promotions.
How to earn $HOOF
Upon receiving your Free NFT Horse, you can start racing to earn points and $HOOF which can be put towards upgrading your horse.
You can earn additional $HOOF tokens by completing daily tasks like finishing a race in the Top 3 position.
How to claim $HOOF?
You can start claiming $HOOF once you have accumulated a minimum of 1,000 $HOOF. Claiming $HOOF through Coins Arcade is free, the fees will be covered by the MetaDerby Team!
There are many other Play-To-Earn game titles ranging from turn-based battle games like Axie Infinity to trading card games like Gods Unchained.
Each of their games has its own play style and tokenomics where players can earn from various avenues.
Another category of to-earn games is the movement category. In Move-To-Earn, users are incentivized by accumulating steps that can be converted into an in-game currency for different activities or actions like leveling up characters or harvesting materials or even upgrading land.
A few popular Move-To-Earn games include Genopets, StepN, and Sweatcoins where users earn crypto by moving around in their daily lives.
Move-To-Earn does not only incentivize users economically with crypto but rewards users healthwise by moving and staying active.
If you haven't, you can download Coins.ph App to get started with Coins Game Wallet!
Disclaimer: The information and publications in this article are not intended to be and do not constitute financial advice, investment advice, trading advice, or any other advice or recommendation offered or endorsed by Coins.
Get your crypto journey started with Coins.ph
Coins.ph is regulated by the Bangko Sentral ng Pilipinas (BSP) and is the first-ever blockchain-based company in Asia to hold both Virtual Currency and Electronic Money Issuer licenses from a central bank.
Sign up for a Coins.ph account now to start trading OR download the Coins.ph app. Once you have verified your account, you can convert PHP into the cryptocurrencies of your choice.
Join the Coinmunity
Connect with like-minded crypto enthusiasts! Be the first to learn about our news and campaigns.
Join us on: